Are you looking to gain valuable deep learning skills? One of the best ways to do this is to dive into a deep learning course. That's why this article covers the 18 best deep learning courses online in 2023, including options for newcomers and more experienced professionals.
If you're brand new to the field, you might be wondering, what is Deep Learning (DL)?
No problem! In the simplest terms, Deep Learning is an algorithmic approach that uses something called an artificial Neural Network (NN) to understand complex patterns from huge sets of data, subsequently learning from each interaction.
Deep learning is also closely related to machine learning (ML) and AI, being a subset of each. Great, why does this matter? Good question! Well, this means that you can read the best AI books or even the best ML books to further enhance your deep learning skills.
But where is deep learning being used in 2023? While the headlines are often reserved for deep learning projects like Tesla's self-driving cars or ChatGPT, many industries seek to leverage AI and Deep Learning, including finance, healthcare, agriculture, and much more.
It's easy to see why data-driven professions that use deep learning, like data science, have become so lucrative, with professionals in the US earning salaries in excess of $110K.
So if you're excited by the chance to be at the head of innovation by unlocking hidden value from data, let's dive into some of the best courses to learn Deep Learning in 2023!
How to Choose the Best Deep Learning Course in 2023
When choosing the best Deep Learning course, you'll want to ensure it matches your personal learning goals while blending Deep Learning theory and practical applications.
When reviewing the best Deep Learning courses in 2023, we considered the following criteria:
Accreditation and Reputation: We emphasized courses from reputable institutions and online learning platforms.
Curriculum and Topics Covered: We evaluated course curriculums to ensure they covered essential Deep Learning concepts.
Practical Exercises and Projects: We looked for courses that included hands-on experience, whether via practical exercises or projects.
Instructor Expertise: We looked for course instructors with relevant practical knowledge and industry experience.
Student Reviews and Testimonials: We analyzed reviews and testimonials from previous students to gauge the overall learning experience.
The 18 Best Deep Learning Courses of 2023
Why we chose this course
This intermediate-level specialization from DeepLearning.AI provides you with the foundational knowledge and practical skills required to build and train various neural network architectures, including convolutional neural networks, recurrent neural networks, LSTMs, and Transformers.
Our findings show that this 5-course program provides a wide range of learning materials, from understanding theoretical concepts to applying them to industry-specific use cases like speech recognition, music synthesis, machine translation, and more using Python and TensorFlow.
If you're looking for a top-notch Deep Learning and AI education from industry-respected Andrew Ng of the prestigious Stanford University, this is an excellent option.
The teaching methodology also leverages industry best practices and optimization techniques to train test sets, reduce error rates, and analyze bias/variance in Deep Learning applications.
One of the highlights of this program is the Applied Learning Project, where you get to apply your skills in real-world settings. Moreover, the specialization is delivered by top-rated instructors, including Andrew Ng, co-founder of Coursera and founder of DeepLearning.AI.
Pros
Hands-on curriculum covering various aspects of Deep Learning
Real-world applications and case studies to bridge the gap between theory and practice
Expert instruction from well-known figures in the AI and Deep Learning industry
Opportunity to learn and apply Deep Learning strategies and optimization algorithms
Includes career advice from industry and academic experts
Cons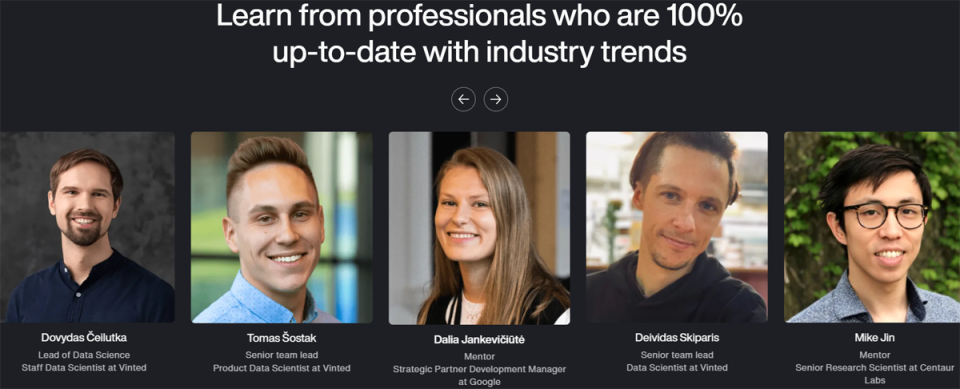 Why we chose this course
This option is a little different to the others in our list, as it's a fully-fledged data science boot camp. That said, you have the option to specialize in Deep Learning, offering the chance to learn how to build a neural network with PyTorch while also learning how to apply these to solve various data challenges with tabular data, computer vision, and natural language processing.
Turing College also offers certifications for their graduates, but the real value comes from the one-on-one mentorship, interview prep, the ability to work with professionals in the field, and not to mention the help you get in finding a job with your new skills.
This Deep Learning bootcamp is fully online, and it offers real-world benefits after you graduate. We rarely see a data science program boast these types of hiring rates. It ranks highly for our recommended deep-learning courses.
Pros
More than 96% of Turing College graduates get a job within 6 months of graduation
Includes a special focus on deep learning
Helps students prepare a portfolio of their own work
Mentorship from industry professionals
Help with interview prep and salary negotiations
Cons
Because it's a Deep Learning bootcamp, it has a higher cost than others we discuss
Why we chose this course
Based on our observations, this comprehensive specialization is specifically curated for machine learning researchers and practitioners as it comprises three courses designed to advance your skills in TensorFlow.
The topics in the advanced courses include evaluating Deep Learning models using TensorFlow, model validation, customization, harnessing APIs to create architectures, data workflows, and probabilistic Deep Learning.
The program, guided by Dr. Kevin Webster, also includes hands-on tutorials, graded programming assignments, and Capstone projects to develop practical skills in real-world applications, such as image classification and language translation.
Pros
Broad coverage of TensorFlow, from fundamental to advanced concepts
Hands-on tutorials and capstone projects for practical application of concepts learned
Courses led by Imperial College London, a top-rated global university
Focuses on probabilistic Deep Learning, an important area of machine learning
Automatically graded assignments to test and consolidate learning
Cons
Some students report technical difficulties in accessing the materials for the capstone project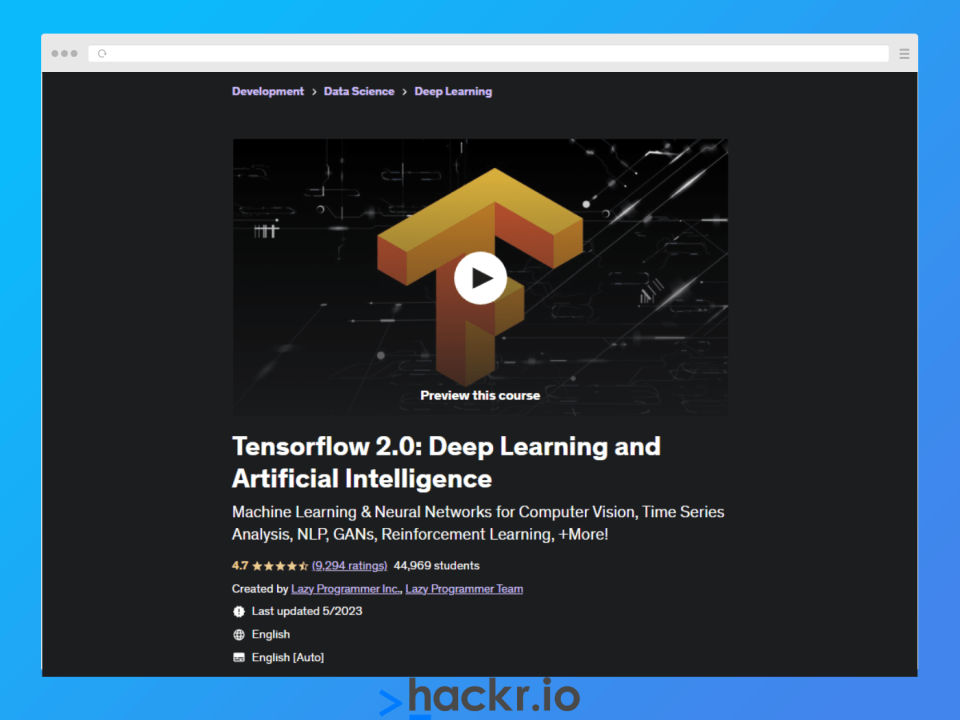 Why we chose this course
Our findings show that this highly practical Tensorflow course is designed for both beginner and expert-level students. It covers all major Deep Learning architectures, including deep neural networks, convolutional neural networks for image processing, and recurrent neural networks for sequence data.
The course provides you with hands-on experience through a vast variety of projects, such as creating a Deep Reinforcement Learning Stock Trading Bot, employing Natural Language Processing (NLP), and demonstrating Moore's Law through coding.
Overall, we believe it offers a robust learning experience for students seeking fast-paced learning and in-depth understanding.
Pros
Versatile course, suitable for both beginner and expert-level students
Every line of code is explained in detail
Inclusive of practical projects on trending AI topics, aiding real-world applicability
Teaches advanced TensorFlow concepts, making it future-ready
Offers the option for in-depth exploration of theory
Cons
Students report that certain sections are not explained clearly enough
Why we chose this course
This robust course stands out for its well-structured content, separating tutorials into two volumes: Supervised and Unsupervised Deep Learning.
Rather than bombarding you with dense theory, it emphasizes intuition-based learning and hands-on coding, fostering an in-depth understanding of Deep Learning algorithms.
Our curriculum analysis shows that it includes six real-world projects, encouraging you to tackle diverse problems such as customer churn prediction, image recognition, and stock price prediction using Artificial Neural Networks, Convolutional Neural Networks, and Recurrent Neural Networks.
Overall, it offers an in-depth understanding of prominent Deep Learning libraries such as TensorFlow, PyTorch, Keras, and Theano.
Pros
Clear, robust structure with a focus on both supervised and unsupervised learning
Emphasizes intuition-based understanding
Provides hands-on coding experience from scratch
Real-world, up-to-date datasets for practical project experience
Responsive in-course support to address your queries
Cons
While updated frequently, certain parts of the code may be out of date
Why we chose this course
After researching dozens of courses, we came across this certificate in Deep Learning, which includes a comprehensive series of courses that equip you with a thorough understanding of Deep Learning and its real-world applications.
Taught by a team of experienced IBM data scientists, including Senior Data Scientist Aije Egwaikhide and Chief Data Scientist Romeo Kienzler, this program covers fundamental concepts and diverse neural networks for supervised and unsupervised learning.
It provides hands-on experience with popular Deep Learning libraries such as Keras, PyTorch, and TensorFlow and offers exposure to accelerated hardware and GPUs for Deep Learning at scale.
At the end of the course, you'll work on a capstone project, showcasing your newfound skills to potential employers.
Pros
Offers a thorough understanding of Deep Learning concepts and applications
Led by experienced and highly-qualified IBM instructors
Practical, hands-on learning with industry-standard libraries like Keras, PyTorch, and TensorFlow
Real-world project work, culminating in a capstone project
Cons
Why we chose this course
This comprehensive four-month nanodegree program provides you with a solid understanding of Deep Learning's cutting-edge topics, including the various neural and adversarial networks.
Our findings show that it includes a series of project-based courses in which you use tools like PyTorch to create a handwritten digits classifier, design CNNs for image-based landmark classification, build an LSTM Seq2Seq chatbot, and train custom GAN architectures for face generation.
The program provides real-time support and includes valuable career services like Github portfolio review and LinkedIn profile optimization. It's suitable for learners who require a flexible schedule and want to work on projects developed in partnership with industry experts.
Pros
Offers an extensive, hands-on introduction to diverse Deep Learning algorithms
Contains four real-world projects allowing students to apply their learning
Provides real-time support and career services, including GitHub portfolio review and LinkedIn profile optimization
Allows for flexible learning that can be tailored according to personal schedules
Cons
Why we chose this course
Our team found this in-depth 24-hour video course on YouTube, designed to make Deep Learning accessible to all learners.
The course, guided by Daniel Bourke, a Machine Learning Engineer, offers a step-by-step approach to developing Deep Learning models using PyTorch. It emphasizes a hands-on approach with extensive real-world projects supplemented by exercises and experiments.
The curriculum includes PyTorch fundamentals, workflows, neural network classification, computer vision, custom datasets, modular coding, transfer learning, experiment tracking, research replication, and model deployment.
By the end of the course, you will have completed a massive three-part project and gained the skills required for a Deep Learning career.
Pros
Complete and in-depth curriculum covering a broad range of topics
Highly practical and hands-on, with multiple real-world projects and experiments
Comprehensive yet beginner-friendly, with step-by-step instructions
Completely free and accessible on YouTube
Cons
Students find the video difficult to navigate based on the length
Why we chose this course
Based on our observations, this project-based course offers a deep dive into advanced concepts of Deep Learning and Natural Language Processing (NLP).
It comprises 12 industry-oriented projects, teaching you how to leverage popular tools like NumPy, Matplotlib, Scikit-Learn, and TensorFlow. Educative also provide their tried and tested hands-on approach to learning where you interact directly with course material, which they think is more effective than passively watching videos.
The content covers diverse applications, from building a COVID-19 detection system using X-rays to developing an emoji predictor through NLP. It's perfect for those looking for a hands-on and text-based approach to learning.
Pros
12 diverse projects covering advanced Deep Learning and NLP topics
Thorough course material, including introductions to key concepts and quizzes
Interactive learning approach is faster and more efficient than video lectures
In-browser live code environments for hands-on learning
Cons
Why we chose this course
Our research shows that this introduction to Deep Learning from MIT is one of the most comprehensive free video tutorials available online.
Designed as an intensive boot camp style course, this 63-unit course aims to impart foundational knowledge of Deep Learning algorithms with applications across computer vision, natural language processing, biology, and more.
You will gain hands-on experience building neural networks in TensorFlow, with the program culminating in a project proposal competition assessed by staff and industry professionals.
Pros
One of the best Deep Learning online courses available for free
Offered by a well-known and prestigious university, MIT
Real-world applications including computer vision, NLP, and biology
Practical experience in building neural networks using TensorFlow
Opportunity for project feedback from industry professionals
Cons
Why we chose this course
This immersive program is offered as part of the MITx MicroMasters program in Statistics and Data Science. It's aimed to equip you with fundamental knowledge ranging from linear models to Deep Learning and reinforcement learning, all via hands-on Python projects.
You will gain an understanding and practical application of principles and algorithms for turning training data into effective automated predictions, diving into topics like clustering, classification, recommender problems, probabilistic modeling, and neural networks/Deep Learning.
Our analysis of this course shows that it provides you with a rigorous and immersive learning experience, similar to what you would get with an on-campus course at MIT, one of the best engineering universities in the world.
Pros
Comprehensive coverage of machine learning and Deep Learning
Hands-on Python projects that provide practical application of the learned concepts
Part of the MITx MicroMasters Program, offering a high level of rigor
Taught by experienced and esteemed MIT faculty members
Cons
Why we chose this course
Our team found this thorough Deep Learning course developed in collaboration with Facebook Artificial Intelligence, providing students with a strong foundation in Deep Learning.
Taught by Soumith Chintala, the creator of PyTorch, the course offers a practical experience through coding exercises and projects implementing state-of-the-art AI applications.
You will learn the basics of Deep Learning, build neural networks using PyTorch, explore convolutional and recurrent neural networks, perform style transfer, and deploy models in production environments. With a focus on hands-on learning, this course equips you with essential skills for building Deep Learning applications.
Pros
Direct instruction from Soumith Chintala, the creator of PyTorch
Specialized coverage of Deep Learning concepts using PyTorch
Engaging projects, including style transfer and text generation
In-depth exploration of CNNs and RNNs for computer vision
Cons
Why we chose this course
All of the lectures for UC Berkeley's Designing, Visualizing, and Understanding Deep Neural Networks class are available as a free video series on YouTube, providing a comprehensive exploration of deep networks and their transformative effects across numerous fields.
Our analysis of this course shows that it covers key concepts like backpropagation, convolutional nets, reinforcement learning, and meta-learning, among others. While the course echoes Yann LeCun's sentiment that we're still learning to fully comprehend these complex systems, it equips students to navigate this territory.
With the promise of understanding visualizing deep networks and exploring their training and use with visualization tools, this course stands out in the field of Deep Learning.
Pros
Full coverage of deep networks and their applications across a variety of domains
Hands-on approach with practical implementations and visual tools
Accessible learning platform via YouTube, providing ease of learning at one's own pace
Cons
Does not offer personalized feedback or user support typically found in paid courses
Why we chose this course
Based on our observations, this introductory course will help you understand Deep Learning techniques in various industries. You will learn the fundamentals of training Deep Learning models through hands-on exercises in computer vision and natural language processing.
This course enables you to enhance data sets through data augmentation to improve model accuracy and leverage transfer learning between models for efficiency. It provides an opportunity to employ freely available, state-of-the-art pre-trained models to expedite the application deployment process.
Overall, it's ideal for those looking to build a solid foundation in Deep Learning and gain the confidence to manage their own Deep Learning projects.
Pros
Hands-on learning experience in computer vision and natural language processing
Covers fundamental techniques and tools necessary to train a Deep Learning model
Teaches efficient techniques such as data augmentation and transfer learning
Enables you to leverage pre-trained models to fast-track application deployment
Cons
Why we chose this course
Our findings show that this free course from NYU's Center for Data Science provides an immersive exploration into Deep Learning and representation learning techniques, with a focus on both supervised and unsupervised learning.
The in-depth curriculum includes eight thematic areas covering neural nets, parameter sharing, energy-based models, associative memories, graphs, control, optimization, and more. With applied contexts in computer vision, natural language understanding, and speech recognition, it ensures a broad understanding of Deep Learning's applicability.
Importantly, you have the unique opportunity to learn directly from Yann LeCun, a pioneer in the field of AI. Additionally, the course facilitates interactive learning through platforms like Reddit and Discord and assigns homework to reinforce understanding.
Pros
Comprehensive Deep Learning curriculum covering a broad range of topics
Learning directly from AI pioneer, Yann LeCun
Interactive learning support via Reddit and Discord for direct student communication
Offers practical homework assignments for a hands-on learning experience
Cons
Why we chose this course
Our team came across this robust learning pathway that explores advanced AI and machine learning concepts. It contains 13 curated sections, exploring topics from the basics of Deep Learning, artificial and convolutional neural networks, generative adversarial networks, and the optimization of Deep Learning models.
In addition, the course offers an in-depth exploration of applications such as computer vision, natural language processing, reinforcement learning, and training neural networks in Python and C++.
At the end of this course, you will earn a certificate of completion, solidifying your mastery of Deep Learning and neural networks.
Pros
In-depth coverage of advanced Deep Learning and neural networks concepts
Variety of instructors, each bringing their unique expertise and perspective
Practical insights into computer vision and natural language processing
Includes a LinkedIn Learning certificate of completion to endorse your acquired skills
Cons
Why we chose this course
This Deep Learning course is taught by Kane Follow, a seasoned expert in Machine Learning and Big Data with experience at Amazon, and it offers an in-depth exploration of essential Deep Learning topics.
Our analysis shows that it includes artificial neural networks, multi-layer perceptions, TensorFlow, Keras, convolutional neural networks, recurrent neural networks, variational auto-encoders, and generative adversarial networks.
It also includes hands-on exercises such as handwriting recognition, political party prediction based on votes, and sentiment analysis on real movie reviews.
The course culminates in a final project where you create an artificial neural network to classify mammogram results. Overall, this course will help you get up to speed with the fundamentals of Deep Learning in a practical and engaging manner.
Pros
Comprehensive curriculum covering a range of Deep Learning topics
Hands-on exercises and activities promote practical understanding and skills application
Concludes with a real-world project, enhancing your portfolio
Insightful instruction from an experienced machine learning professional
Cons
Why we chose this course
This intermediate-level course, designed by industry leaders, is aimed at equipping students with the necessary skills to excel as Deep Learning Engineers. The course features a blend of self-learning and live classes, covering critical concepts and tools, including artificial neural networks, PyTorch, autoencoders, and a wide range of neural networks.
Our findings show that an emphasis is placed on practical learning with real-life industry-based projects, such as predicting player placement in PUBG or analyzing loan data for potential defaults.
With live classes featuring eight times the industry standard interaction rate and a dedicated mentoring session, this course ensures a high level of engagement and individual support for each student.
Pros
Designed by industry leaders, aligned with the latest best practices
Offers a blend of self-paced learning and interactive live classes
Real-life industry-based projects ensure hands-on learning and practical understanding
Dedicated mentoring sessions enhance the individual learning experience
Provides a certification upon completion, adding value to your professional credentials
Cons
Why Should You Study Deep Learning?
In today's data-driven world, Deep Learning has emerged as a transformative technology with a myriad of applications. From computer vision and natural language processing to healthcare and autonomous systems, the demand for Deep Learning professionals is skyrocketing.
The U.S. Bureau of Labor Statistics also forecasts a growth of 35% in data science-related roles by 2033, indicating robust demand for Deep Learning expertise.
By studying Deep Learning, you can open doors to exciting career opportunities and ensure your relevance in the ever-evolving job market.
Deep Learning Career Opportunities and Growth
Deep learning expertise is highly sought after across industries. From tech giants to startups, companies are actively seeking professionals with a strong grasp of Deep Learning concepts.
The career paths in Deep Learning are diverse. Roles like Deep Learning engineer, research scientist, and machine learning architect offer enticing prospects for growth and impact.
And according to industry reports, the average salary for Deep Learning professionals is between $126,000 to $168,000 per year, with significant growth projected in the coming years.
Final Thoughts
And there you have it, the 17 best Deep Learning courses to kick-start or level up your journey into this game-changing field. We've also included a range of free and paid Deep Learning courses, so there's something for everyone.
Deep learning continues to reshape the world as we know it, and being fluent in this language of the future empowers you to join the vanguard of this technological revolution.
By embracing a Deep Learning course, you're investing in your future, setting yourself up for personal growth, innovative solution development, and many promising career opportunities.
Make no mistake; this is your moment to explore, innovate, and redefine what's possible. So, what are you waiting for? Dive in, and let the world of Deep Learning unfold!
Curious about the difference between Machine Learning and Deep Learning? Check out
Machine Learning vs Deep Learning
Frequently Asked Questions
1. What Are the Best Courses for Deep Learning?
The best Deep Learning courses include a blend of theoretical knowledge and practical application of Deep Learning models. Any of the options on our list are a great starting point, but if you're not sure which to pick, we'd highly recommend Coursera's Deep Learning Specialization from DeepLaerning.AI.
2. Is the DeepLearning.AI Course Worth It?
The Deep Learning Specialization from DeepLearning.AI provides a comprehensive understanding of how Deep Learning works, equips you with valuable Machine Learning techniques, and offers a Deep Learning certification upon completion. We'd highly recommend this course and think it's definitely worth your time.
3. Which Company Is Best at Deep Learning?
This is a really difficult question to answer, as Deep Learning is being used in a wide range of industries for varying purposes. It's easy to focus on headline-worthy applications like Open AI's ChatGPT, Tesla's FSD, and Apple's Siri, but various companies in industries like finance, healthcare, agriculture, and more are adopting Deep Learning to revolutionize their sectors.
4. Is Deep Learning AI Training Available for Free?
Yes, several platforms offer free Deep Learning AI training, and we have included a range of free Deep Learning courses in our list. This includes Udacity's Intro to Deep Learning with PyTorch and even MIT's Intro to Deep Learning. These are great ways to gain a solid foundation and hands-on experience in the field.
People are also reading: