In the ever-evolving world of cryptocurrencies, there's one digital asset that has stood the test of time and continues to thrive: Ethereum.
With its endless possibilities for decentralized applications (dApps) and smart contracts, Ethereum has become an essential part of the crypto ecosystem. But to navigate this exciting frontier, you need a secure and reliable Ethereum wallet.
Did you know that as of 2023, there are more than 225 million unique Ethereum addresses? With so many ETH holders, each with their own unique needs, finding the perfect wallet can feel like searching for a needle in a haystack.
That's where we come in! We've done the legwork to bring you the best Ethereum wallets of 2023 based on functionality, security, and user experience. Whether you're a beginner to blockchain or a seasoned crypto veteran, this guide has something for everyone. Let's dive in!
Featured Ethereum Wallets [Editor's Picks]
MetaMask - Our top pick for the best overall Ethereum wallet due to its rich features, including support for multi-chains, staking, NFTs, and dApps.
Ledger Nano X- Our top pick for hardware wallets due to its user-friendliness and affordable price point.
Rainbow - Our top pick for entry-level investors and developers due to its streamlined interface and customizable API.
What Is Ethereum?
As perhaps the most successful application of blockchain technology alongside Bitcoin (BTC), Ethereum is a decentralized, open-source blockchain system with its own cryptocurrency, Ether (ETH).
Launched in 2015 by a group of eight co-founders, including Vitalik Buterin, Ethereum has become a global platform for decentralized applications (dApps), with many developers rushing to learn the Solidity programming language to write smart contracts.
Ethereum also hosts other cryptocurrencies called "tokens" through its ERC-20 compatibility standard, making it a popular platform for launching new cryptocurrencies.
The Ethereum 2.0 upgrade, which began in December 2020, replaced the proof-of-work (PoW) consensus algorithm with a proof-of-stake (PoS) algorithm. This upgrade has improved the network's security, scalability, and energy efficiency. The Shanghai Upgrade, the final phase of the Ethereum 2.0 upgrade, is scheduled to be released in April 2023.
As the second-largest cryptocurrency after Bitcoin, Ethereum's market cap reflects its significance in the crypto world. Track the price of ETH here.
What Are Ethereum Wallets?
Ethereum wallets are digital tools that allow you to store, manage, and interact with your ETH and other Ethereum-based tokens. There are four main types of crypto wallets: custodial, non-custodial, hot, and cold.
Custodial wallets are managed by third-party companies that hold your private keys, giving them control over your funds. Non-custodial wallets, on the other hand, give you complete control over your funds by allowing you to hold your private keys.
Hot wallets are connected to the internet and allow for quick and easy access to your funds, whereas cold wallets are offline and considered more secure.
In addition to their classification, wallets come in various forms, each with its advantages and drawbacks. Below is a table comparing different types of Ethereum wallets:
IMPORTANT: Exchange wallets can be either custodial or non-custodial, depending on the exchange's policies.
How Do Ethereum Wallets Work?
Ethereum wallets interact with blockchain assets through wallet addresses, which are unique identifiers for each user's account. Your wallet address functions like an email address, allowing others to send you ETH or tokens. However, to access and manage your assets, you'll need your private key, which acts like a password.
When you create a new wallet, a private key is generated, and a corresponding public key is derived from it. The wallet address is then created from the public key. It's essential to keep your private key safe and secret, as anyone with access to it can control your assets.
What Makes a Great Ethereum Wallet? [Ranking Criteria]
When researching and testing the top Ethereum wallets, we considered several important features to create our ranking. In this section, we'll discuss these features in detail to help you understand the criteria we used to establish our list.
Security: Features such as secure storage of private keys, encryption, and two-factor authentication (2FA), help protect your wallet against unauthorized access.
Multi-token support: The ability to manage all your digital assets (including other cryptocurrencies beyond ETH) in one place, making it more convenient and efficient.
User-friendliness: An easy-to-use interface, even for those new to cryptocurrency, ensuring that users can quickly navigate and manage their assets.
Regular upgrades: Active developments and updates to improve security, fix bugs, and add new features, demonstrating the provider's commitment.
Staking: The ability to participate in staking and earn rewards, especially as more cryptocurrencies transition to PoS consensus mechanisms, like Ethereum.
WalletConnect support: Integration with decentralized applications (dApps) to enable seamless interaction with the Ethereum ecosystem and access to various blockchain-based services.
The 11 Best Ethereum Wallets of 2023
1. MetaMask - Best Ethereum Wallet Overall [Hackr's Top Pick]
Why we chose this wallet
MetaMask is a popular Ethereum wallet that supports a broad range of Ethereum-based tokens, non-fungible tokens (NFTs), and decentralized applications (dApps) on various blockchains. It offers an easy setup process and allows users to earn rewards through staking and airdrops.
MetaMask supports Ledger and Trezor hardware wallets, adding an extra layer of security. To secure the wallet, MetaMask uses a recovery phrase of 12 words that lets the wallet re-generate the private key. Its clean and straightforward interface makes it suitable for beginners.
Pros
Central hub for dApps
Built-in Swaps feature to swap tokens directly from the wallet
User-friendly interface, easy for beginners and advanced users
Adjustable gas fees
Cons
Only supports Bitcoin as an ERC-20 token, Wrapped BTC(wBTC)
Limited customer support
2. Ledger Nano X - Best Ethereum Hardware Wallet [Hackr's Top Pick]
Why we chose this wallet
The Ledger Nano X is a user-friendly hardware wallet offering industry-leading security features, including the Secure Element Chip and in-house OS to protect private keys. With support for over 5,500 assets, the wallet can manage multiple cryptocurrencies and NFTs.
The wallet can pair with the Ledger Live app and the Ledger browser extension that's currently in beta, allowing users to buy, exchange, and grow their crypto via Bluetooth. Additionally, it offers staking options for Tezos, Tron, Cosmos, Algorand, and Polkadot, as well as lending for DAI, USDC, and USDT.
Pros
Exceptional security features to safeguard private keys
User-friendly interface with the Ledger Live app for easy asset management
Staking and lending options available to grow crypto assets
Cons
Limit of 100 apps on the device (each cryptocurrency has a dedicated app)
3. Rainbow - Most User-Friendly Ethereum Wallet
Why we chose this wallet
Rainbow is an Ethereum-only mobile wallet with a user-friendly interface designed to make crypto easy for beginners. It features a streamlined interface, built-in Uniswap exchange support (for dApps and NFTs), and supports Ethereum Naming Service for simplified crypto addresses.
It also features RainbowKit, a customizable API for developers, to make integrating a wallet into applications fast and easy. Users must keep their device and recovery phrase safe, as it is the only method of accessing the wallet and funds within it.
Pros
Ability to access Uniswap DEX without MetaMask
Fun interface that makes crypto accessible for new users
Displays NFTs within the application
Cons
Only available as a mobile app
4. Trust Wallet - Most Secure Ethereum Wallet (Online)
Why we chose this wallet
Trust Wallet is a highly secure and feature-rich wallet offering Ethereum holders an all-in-one solution for managing their digital assets. It's the official Binance wallet and supports a vast array of cryptocurrencies, NFTs, and dApps. It also offers staking options for over a dozen PoS-based cryptocurrencies.
Its security features include user control over private keys, optional Touch ID or Face ID authentication, and customizable auto-lock settings. With a user-friendly interface and comprehensive functionality, Trust Wallet caters to both beginners and experienced users.
Pros
Wide range of supported digital assets, including cryptocurrencies, NFTs, and dApps
User-friendly interface and easy setup process
Staking options available for multiple PoS-based cryptocurrencies
Cons
No cold storage support or hardware wallet integration (at the moment)
Limited customer support options, with no direct assistance available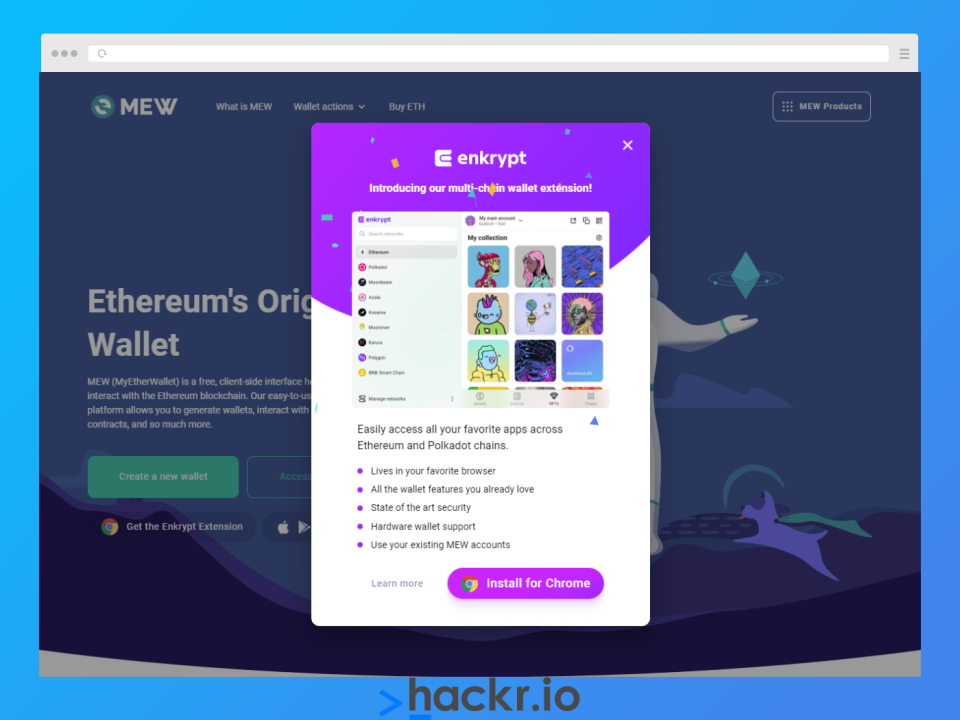 Why we chose this wallet
MyEtherWallet (MEW) is an open-source wallet that allows users to manage all Ethereum-based assets, including NFTs. MEW claims to be the first-ever Ethereum wallet and offers advanced features, such as the ability to swap tokens, stake ETH, and ENS domains.
The open-source code of the wallet has been thoroughly audited to ensure its security. Additionally, MEW offers users the option to choose a 13th word in addition to the twelve-word mnemonic phrase to access and recover their wallet. It's ideal for intermediate users.
Pros
Supports a wide range of Ethereum-based assets, including NFTs
Provides access to decentralized applications and smart contracts
Customizable gas fees for blockchain transactions
Cons
6. Rabby - The Best MetaMask Alternative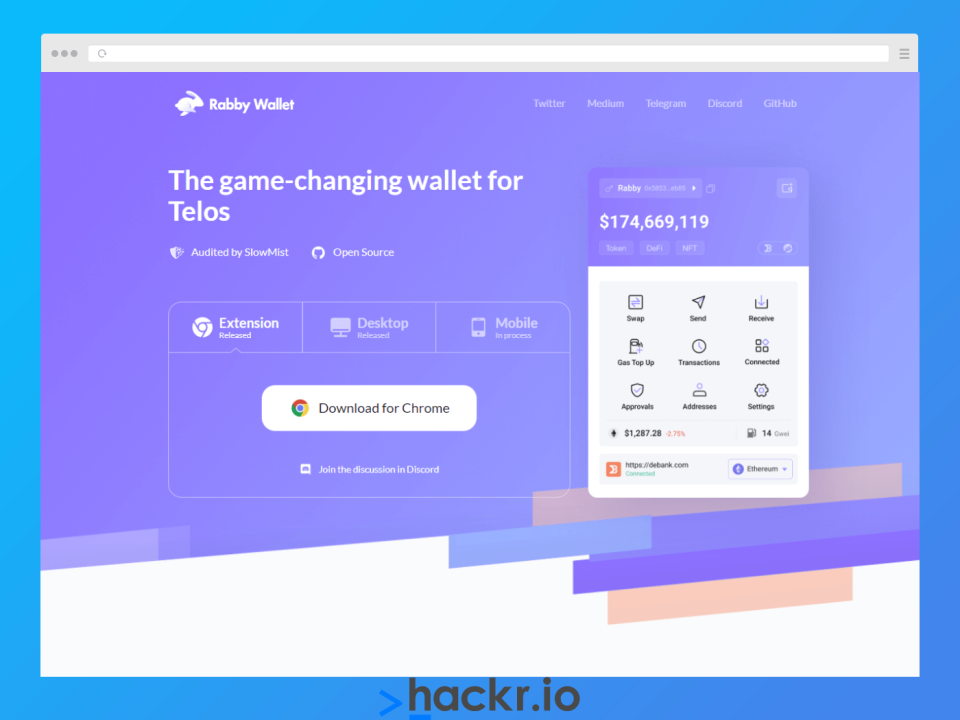 Why we chose this wallet
Rabby is an open-source, Ethereum-compatible wallet that provides a user-friendly alternative to traditional wallets. It offers transparent transactions and pre-transaction risk scanning, which lets users know about any possible failures or security risks.
The wallet has undergone professional audits and supports multiple signing modes, including hardware and mobile wallets. It's integrated with 44 chains and NFTs, making it ideal for beginners and advanced users.
Pros
Multi-chain support automatically switches to the correct chain for convenience
Displays transaction details before signing, including post-transaction balance
Pre-transaction risk scanning and regular security rule updates
Cons
7. Coinbase - Best Ethereum Wallet for Buying and Selling
Why we chose this wallet
Coinbase is a widely recognized and user-friendly cryptocurrency exchange platform that offers a self-custody wallet to allow control over a wide range of digital assets, including all ERC-20 tokens. It also has an easy-to-navigate interface, making it ideal for traders of all levels that want one of the top ETH wallets.
Additionally, it offers opportunities to earn cryptocurrency through interest on eligible balances or via Coinbase Earn. It's secured through Secure Enclave technology, 2FA, biometrics, and SMS verification.
Pros
Beginner-friendly interface that supports over 200 cryptocurrencies
User data is backed up in multiple physical locations
Opportunities to earn cryptocurrency through interest or Coinbase Earn
Cons
High transaction fees on the primary Coinbase platform
Reputation for less than stellar customer service
8. Argent - Best Ethereum Wallet for High-Balance Holders
Why we chose this wallet
The Argent Wallet is a secure mobile wallet designed specifically for Ethereum-based tokens and NFTs. With an intuitive interface, it enables users to easily manage and grow their crypto assets while interacting with dApps.
Specialized features include Argent Vault, a specialized wallet with multi-signature security for users with balances of over $50,000 and Argent X, a browser wallet designed for StarkNet. All users can assign "Guardians" to help recover assets in case of loss or theft.
Pros
Robust security features, including multi-sig and guardian systems.
Staking support with interest rates up to 15% on various Ethereum-based tokens.
Argent Vault for enhanced security on large balances
Cons
High transaction fees when purchasing tokens with credit cards
No desktop app
9. Trezor Model T- Most Advanced Ethereum Hardware Wallet
Why we chose this wallet
The Trezor Model T is a highly secure hardware wallet designed to protect cryptocurrencies and NFTs through cold storage. It connects to computers and mobile devices via a USB cable and utilizes the Trezor Suite app for managing transactions.
Security features include digital identity and password management, as well as extra protection through a micro SD card slot. It also features an easy-to-use touchscreen display and supports over 1,200 cryptocurrencies. Ideal for intermediate users.
Pros
User-friendly touchscreen display for efficient operation
Compatibility with a wide range of cryptocurrencies and NFTs
Digital identity, password management, and 2FA/MFA support
Cons
High cost compared to other wallet options
10. Exodus - Best Ethereum Wallet for Beginners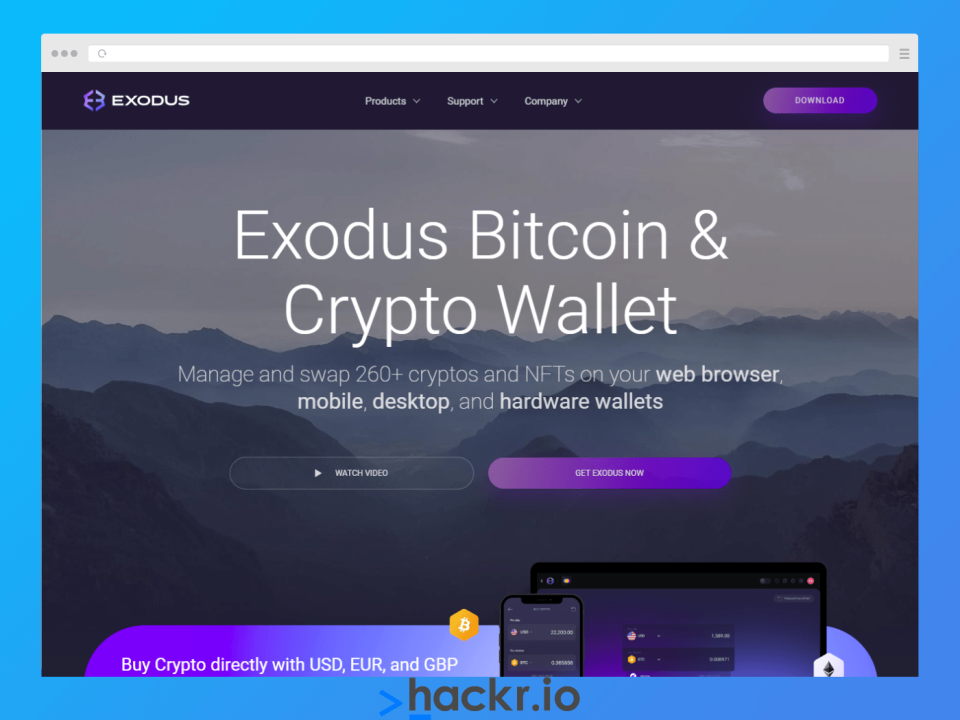 Why we chose this wallet
Exodus Wallet is a versatile and comprehensive crypto management solution that supports over 260 cryptocurrencies and NFTs. It's a multichain Web3 wallet, allowing users to connect to various networks such as Ethereum, Solana, BSC, and more with one browser extension.
It offers built-in Trezor security, enabling users to swap assets with a Trezor hardware wallet, to keep their assets securely offline. Additionally, Exodus Wallet offers a built-in swap feature, live charts and portfolios, and 24/7 human support.
Pros
User-friendly interface and easy setup process
Exceptional customer service and regular updates
Staking available for multiple cryptocurrencies
Cons
No 2FA security protection
No support for crypto-to-fiat conversion within the wallet
11. Guarda- Most Accessible Ethereum Wallet
Why we chose this wallet
Guarda Wallet is a multi-asset cryptocurrency wallet that enables users to manage their crypto asset portfolios across 50+ blockchains and multiple devices. It features staking rewards, borrowing, and a prepaid Visa card to spend crypto anywhere Visa is accepted.
The wallet provides a high level of privacy, as users are not required to provide personal information and maintain control over their private keys. It offers additional security measures, including multi-signature addresses, making it ideal for beginners and advanced traders.
Pros
Wide range of in-app features including staking, borrowing, and spending
Top-tier security with non-custodial wallet and extensive security measures
Users can access their funds through a Prepaid Visa Card by Guarda
Cons
Comparatively high in-app cryptocurrency purchase fee
What Is the Best Ethereum Wallet?
When choosing an Ethereum wallet, it's important to consider your individual needs and preferences. Some users may prioritize security, while others may prioritize user-friendliness or compatibility with specific cryptocurrencies. Let's take a look at the best wallets for different users and use cases.
Conclusion
Ethereum is a revolutionary blockchain platform that enables the development of decentralized applications and the execution of smart contracts. Its cryptocurrency, Ether (ETH), is the second-largest by market cap, and its transition to Ethereum 2.0 promises a more energy-efficient and secure future for the network.
If you want to invest in ETH, you're going to need a way to store it! Navigating the world of Ethereum wallets may seem like a daunting task, but with our expert recommendations, you can make an informed decision to pick the best Ethereum wallet for your needs.
MetaMask is our top pick for the best overall Ethereum wallet due to its user-friendly interface, multi-chain support, and mobile app. To add an extra layer of security, especially for high-level investors, we suggest pairing MetaMask with the Trezor Model T, a highly secure hardware device that protects your assets offline.
Ultimately, as long as your ETH wallet keeps your assets safe and secure while also providing a seamless and user-friendly experience, you'll be on the right track!
Want to store other types of Crypto? Check out:
Our Guide To The Best Crypto Wallets
Frequently Asked Questions
1. Which Ethereum Wallet Has the Lowest Fees?
Fees vary depending on factors like wallet type, network congestion, and gas prices on the Ethereum network. There isn't a single wallet with the lowest fees, so it's essential to research and compare different wallets and their fee structures to find the best one for your needs.
2. Is There an Official ETH Wallet?
The Mist Wallet was considered the official Ethereum wallet, but it is no longer active. The Mist team recommended that users migrate to MetaMask, although it is not the official ETH wallet. It's important to note that the first-ever Ethereum wallet was Myetherwallet (MEW).
3. Is MetaMask the Best Ethereum Wallet?
MetaMask is a great option for beginners due to its user-friendly interface and rich features, but intermediate traders and high-balance holders may prefer wallets like Argent, which offers specialized tools and security measures, or a hardware wallet like the Ledger Nano X. This guide features 11 of the best ETH wallets, each catering to different needs and preferences.
4. Is an Ethereum Wallet Free?
Many of the best ether wallets are free to use, including MetaMask, Rainbow, and Myetherwallet, but they often charge fees for specific features or transactions. It's essential to review the wallet's fee structure before committing to ensure it aligns with your budget.
5. What Kinds of Ethereum Wallets Are There?
There are many kinds of Ethereum wallets. The main types of wallets include software, exchange, hardware, and paper wallets. These are further classified as custodial or non-custodial and hot or cold. The differences between the types of Ethereum wallets are explained in our main guide above.
6. How Long Does It Take To Send Ether?
The time it takes to send Ether can vary depending on several factors, such as the speed of the network, the amount of gas included with the transaction, and the type of wallet used. Generally, it takes a few minutes.
7. Can an Ethereum Wallet Be Hacked?
No wallet is immune to hacking, but proper security precautions can minimize risk. These precautions include using two-factor authentication, keeping your private keys secure, and using a reputable wallet with strong security features.
8. How Do You Get an Ethereum Address?
You can get an Ethereum address by creating a new wallet with an Ethereum wallet provider or by generating a new address within an existing wallet. Once created, your Ethereum address can be used to receive Ether and interact with the Ethereum blockchain.
9. What Should I Look For in an Ethereum Wallet?
When choosing an Ethereum wallet, consider factors such as security, ease of use, compatibility with other applications, and community reputation. Some popular Ethereum wallets that meet these criteria include MetaMask, Ledger Nano X, and Trust Wallet. Our ranking criteria provide a useful starting point for evaluating wallet options.
10. What Type of Ethereum Wallet Is the Most Secure?
Hardware wallets, like the Ledger Nano X and Trezor Model T, are generally considered the most secure type of Ethereum wallet as they store your private keys offline, providing protection against online threats and hacking attempts.
11. Are Ethereum Wallets Free?
Yes, many Ethereum wallets are free. Our guide includes 9 free Ethereum wallets, including Rabby, Exodus, and Guarda. However, it's important to note that while these wallets don't charge for usage, they may still have transaction fees or fees for certain features.
People are also reading: