Blockchain technology has taken the world by storm, revolutionizing industries far beyond cryptocurrency. Its decentralized nature has made it a game-changer in finance, supply chain management, healthcare, and many other sectors.
In fact, blockchain is projected to add $1.76 trillion to the global economy by 2030, showcasing its immense potential for growth and innovation. As the growth in blockchain applications continues to accelerate, so does the demand for skilled blockchain professionals.
Within the last two years, blockchain-related careers in the US have witnessed a staggering 395% increase in job postings. Moreover, professionals with blockchain expertise are enjoying impressive salaries, with some earning over six figures.
Whether you want to learn blockchain programming or you're interested in smart contract development, it's essential to choose the right education path that equips you with the necessary skills and knowledge to enter the world of blockchain.
In this article, we'll guide you through the 15 best blockchain courses in 2023, helping you make an informed decision that sets you on the path to success in this thriving industry.
How to Choose the Best Blockchain Course in 2023
Selecting the perfect blockchain technology courses can greatly impact your journey when learning blockchain technology.
We reviewed over 25 blockchain courses to provide you with accurate and informed recommendations. With that in mind, let's look at some key criteria that we considered when finding the top blockchain courses:
Accreditation and Reputation: We looked for online courses from reputable institutions or online learning platforms with recognized accreditation.
Curriculum and Topics Covered: We evaluated course curriculums to ensure they cover fundamental blockchain concepts, including distributed ledger technology, smart contracts, consensus mechanisms, and decentralized applications (DApps).
Practical Exercises and Projects: We looked for courses with hands-on experience, offering practical exercises and projects to apply your knowledge to real-world scenarios.
Instructor Expertise: It was essential to find instructors with relevant practical knowledge and industry experience.
Student Reviews and Testimonials: We also looked at reviews and testimonials from previous students to gauge the course's effectiveness and learning experience.
The 15 Best Blockchain Courses in 2023
Why we chose this course
Based on our observations, this 5-month blockchain course for beginners offers an immersive introduction to the world of blockchain technologies. It's offered by INSEAD and instructed by industry leaders Don and Alex Tapscott, authors of the best-selling book "Blockchain Revolution".
This course series consists of four parts, introducing students to blockchain fundamentals, the concept of transacting on blockchain, its impact on business, and, ultimately, how to conduct a Blockchain Opportunity Analysis.
It includes contributions from blockchain developers and industry experts from the Ethereum Foundation, Grid Singularity, Keyless Technologies, and ResonanceX, providing valuable insights into the blockchain ecosystem.
The course culminates in a hands-on project where you will identify and evaluate a potential application of blockchain technology in your chosen industry.
Pros
Structured learning with 4 courses covering different aspects of blockchain technology
Includes practical projects, such as the Blockchain Opportunity Analysis
Access to exclusive research from the Blockchain Research Institute and Blockchain Case Commons
Hosted by INSEAD, one of the world's leading business schools, adding significant credibility to the course certificate
Cons
Peer grading may cause delays
Why we chose this course
Our research indicates that this 4-course specialization from the University of Buffalo provides a comprehensive, hands-on introduction to blockchain technology, making it one of the best courses on blockchain.
The program includes a range of blockchain classes, covering topics such as Ethereum protocol, cryptography, smart contract creation with Solidity, Remix development, dApp design, Truffle development, Hyperledger, Microsoft Azure, IPFS, and Hashgraph.
Aimed at intermediate-level learners, the curriculum can be completed in approximately 4 months at a pace of 4 hours per week, ensuring a manageable yet in-depth learning experience.
By the end of the program, you will be prepared to program and design innovative blockchain applications and receive a certificate to share with potential employers, signaling your competence in this revolutionary technology.
Pros
Includes 4 courses, covering a wide range of beginner to advanced blockchain topics
Hands-on projects ensure you can implement their knowledge practically
Led by a Computer Science Professor from the University of Buffalo
Takes place over 4 months, ensuring a manageable learning experience
Cons
Due to frequent software updates, there are versioning issues in the dApps course
Why we chose this course
Our findings show that this is one of the blockchain coding courses, as it offers a realistic perspective on the blockchain through practical examples and projects. It's designed for programmers and aspiring blockchain developers interested in building blockchain applications.
This blockchain development course's curriculum provides an in-depth understanding of Ethereum's purpose and capabilities, along with practical knowledge of Solidity for smart contract creation. It also covers web3, interactive multi-page front-ends, and a 3-hour introduction to React.
You will gain experience using the latest Ethereum development tools (Web3 v1.0) and learn how to build production-ready apps using Ethereum and Solidity.
Pros
Covers Ethereum, Solidity, smart contracts, and front-end integration
Emphasizes building production-ready apps with multiple practical examples
Uses the latest version of Ethereum development tools
Ensures students can adapt to changes in the Ethereum tech ecosystem
Cons
Updated information is provided via text overlay rather than video rerecordings
Why we chose this course
Our team came across this comprehensive nano-degree program that prepares you to work in the rapidly growing field of blockchain technology.
At over 160 hours in length, this is one of the best blockchain developer courses, as it covers a broad range of skills, including Smart Contracts, Blockchain, Cryptocurrency Tokens, and Bitcoin Core.
You'll be able to work with Bitcoin and Ethereum protocols, build real-world projects, and gain practical skills essential for a career in this dynamic industry.
Included are interactive projects like creating your own private blockchain, developing a decentralized app (Dapp), and building a decentralized property listing application as an optional capstone project. The program features real-time support, career services, and flexible learning schedules to accommodate your lifestyle.
Pros
Includes 4 separate courses, covering a wide range of blockchain-related skills
Capstone project has students build a decentralized property listing application
Provides hands-on experience with real-world application
Offers GitHub portfolio review and LinkedIn profile optimization
Features real-time support
Cons
Certain aspects of the course (specifically testnets on Ethereum) may be out of date
Why we chose this course
After researching dozens of blockchain courses, we believe that 101 Blockchains is one of the top platforms for blockchain education due to its wide selection of courses and large professional community.
As a contender for the best course on blockchain, it provides a solid overview of blockchain technology, covering everything from blockchain basics to Ethereum, Hyperledger, and Corda fundamentals.
It also covers real-world applications in trade finance and supply chain management, making it particularly suitable for those pursuing consultancy and management roles.
Led by seasoned blockchain experts, the course blends theory and practice to enhance your efficiency in blockchain projects over just 5 weeks. Upon successfully completing the final exam, you'll receive an official CEBP certification, solidifying your expertise in blockchain.
Pros
Comprehensive curriculum covering a wide range of blockchain topics
Accredited certification recognized in the industry
Weekly interactive exercises
Caters to professionals at various stages of their careers
Cons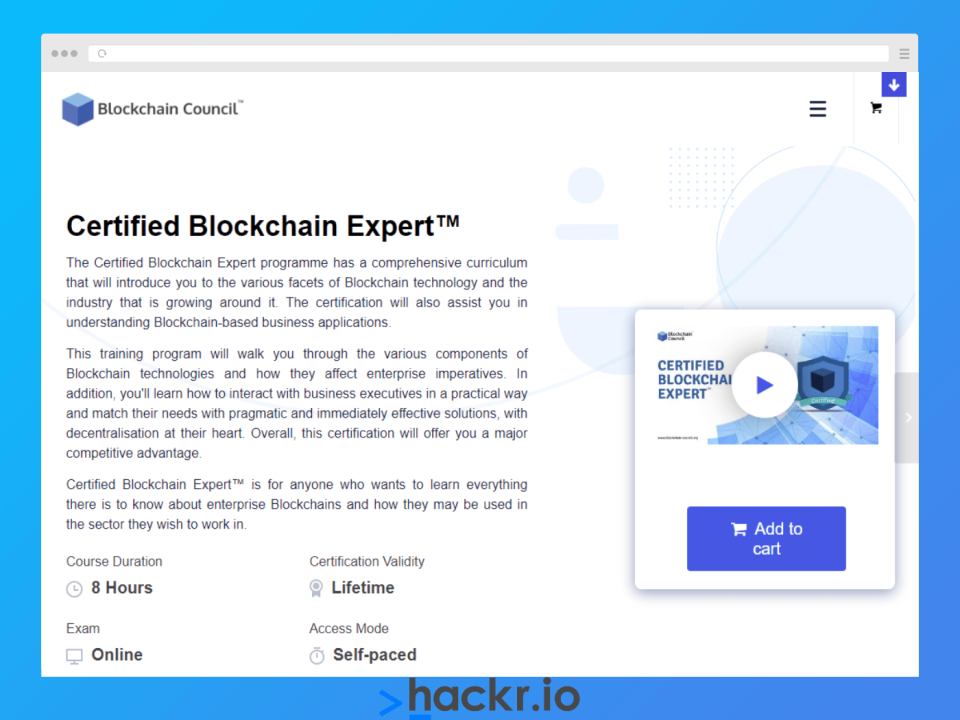 Why we chose this course
What better place to delve into the world of blockchain than at Blockchain Council? This fast-paced course offers insights into the numerous components and industry applications of blockchain. It will teach you how to create decentralized solutions and innovate with blockchain across a variety of sectors.
Our research shows that the course covers a broad range of topics, including blockchain technology, smart contracts, and consensus algorithms. Beyond theoretical knowledge, the course equips you with practical blockchain skills applicable in sectors such as retail, eCommerce, banking, telecom, and manufacturing.
Upon completion of the course, you'll receive a Blockchain Certification, providing you with the skills and accreditation needed to contribute expertly to blockchain-related projects.
Pros
Special emphasis on the practical aspect of blockchain application in various sectors
Covers advanced topics like blockchain mining and consensus algorithms
Includes a comprehensive study of various types of blockchain technologies
Grants lifetime access to course material, facilitating self-paced learning
Cons
Why we chose this course
Based on our observations, this intermediate-level course is designed to guide students in understanding and implementing blockchain concepts, starting from basic cryptography constructs to the practical use of Hyperledger Fabric technology by IBM.
"Become a Blockchain Developer" offers a robust curriculum that allows students to deploy their own blockchain network, write and deploy chaincode on it, and create applications that interact with their chaincode running in the fabric network.
The teaching methodology involves hands-on blockchain coding environments within your browser, accelerating learning through active practice rather than passive video watching.
Pros
Provides a solid foundation of basic principles, ensuring a comprehensive understanding
Hands-on experience with blockchain deployment and chaincode writing
In-browser coding environment allows for immediate learning without the hassle of setting up SDKs or IDEs
Cons
Why we chose this course
Our team found this 32-hour video course is perfect for beginners who are aiming to understand the core concepts of blockchain and how it intertwines with Javascript. Plus, it's easily accessible and completely free on Youtube.
As one of the best free courses on blockchain, it's directed by Patrick Collins, a seasoned software engineer and veteran of the finance industry, who has also developed the world's most-viewed smart contract tutorial.
Expect to cover topics including blockchain basics, smart contracts, Solidity, ERC20s, full-stack Web3 dApps, decentralized finance (DeFi), JavaScript, TypeScript, and more.
Each lesson combines theory and practical examples, enabling you to apply their knowledge to real-world scenarios. The course includes hands-on projects that will deepen your learning experience, creating a strong foundation in blockchain technology.
Pros
Highly detailed course covering blockchain essentials and advanced topics
Taught by Patrick Collins, a respected software engineer and industry professional
Numerous practical projects using JavaScript and TypeScript
High praise for the course's thoroughness and attention to detail
Emphasis on JavaScript, beneficial for those familiar with the language
Cons
Lack of personalized support or instructor interaction due to the YouTube format
Why we chose this course
This quick introduction aims to make the complex world of blockchain accessible to a non-technical audience by delving into the concept from a broad perspective rather than a deeply technical one.
Our findings show that this course highlights the transformative power of blockchain across industries, from finance to identity management, and aims to provide an understanding of the technology's potential and limitations. Key topics include software code, risk management, client-server computing, blockchain applications, and the overall blockchain ecosystem.
At the end of the course, you will receive a sharable LinkedIn Learning certificate to showcase your knowledge.
Pros
An ideal start for non-technical individuals interested in blockchain
Led by Jonathan Reichental, an experienced professional in the field
Provides a practical understanding of real-world applications of blockchain
Provides a sharable LinkedIn Learning certificate upon completion
Cons
Lack of hands-on experience or practical application
Why we chose this course
This six-week online blockchain short course is offered by the renowned MIT Sloan School of Management examines blockchain technologies from an economic viewpoint.
Unlike some of the others on our list, this course is designed for entrepreneurs and managers who wish to comprehend the impact of blockchain technologies in economic settings and identify areas for implementation within their businesses.
The course, curated by crypto-economics expert Christian Catalini, teaches you how to apply blockchain technology to drive innovation and improve efficiency in your organization. Although it's non-technical in nature, the course will provide you with a solid understanding of blockchain solutions, networks, ecosystems, and developments.
Pros
Offered by the MIT Sloan School of Management, and led by a crypto-economics expert
Essential areas of blockchain application for business
Includes a certificate of completion from MIT Sloan
Tailored for non-technical individuals
Cons
Might be too theoretical for those who prefer hands-on, practical instruction
Why we chose this course
Our team found this completely free 11-hour course on Youtube, which will provide you with extensive, hands-on knowledge to develop your first blockchain application. Covering Ethereum blockchain, Web3.js, and Solidity smart contracts, the course does not require any prior knowledge of blockchain, making it ideal for beginners.
It's divided into four major sections: building a real estate app similar to Zillow, a detailed Solidity tutorial, creating an NFT marketplace, and setting up a domain site like GoDaddy. Each section includes detailed code instructions and project setup steps available on GitHub.
With a conversational teaching style and a strong focus on hands-on learning, the instructor aids students in understanding and building complex blockchain applications in an engaging and practical manner.
Pros
Completely free and easily accessible on YouTube
Comprehensive introduction to blockchain, covering applications and NFT marketplaces
Hands-on and project-based
Source code for each project is readily available on GitHub for reference
Easy to navigate with timestamps
Cons
Lack of personalized support or instructor interaction due to the YouTube format
Why we chose this course
Our analysis of this short course shows it to be suitable for complete beginners who want a comprehensive understanding of blockchain technology.
Guided by Jitesh Khurkhuriya, a seasoned tech professional with over 20 years of experience, the course provides the foundational knowledge needed to understand the inner workings of blockchain and its applications in various industries.
It explores key topics, from blockchain basics to cryptographic hash functions and consensus algorithms, before diving into smart contracts and blockchain platforms. You will learn about real-world applications of blockchain in industries like finance and supply chain and take part in a hands-on project where you will create and run a Python hash generator.
Pros
Hands-on practical project with a Python hash generator
Compares various blockchain platforms, including Ethereum, Hyperledger, and Corda
Instructor has 20+ years of experience in the tech industry
Provides real-world context and examples of blockchain technologies
Cons
Why we chose this course
This is a professional certificate program offered through Blockchain at Berkeley and faculty from UC Berkeley's Computer Science department.
It consists of two courses: 'Bitcoin and Cryptocurrencies', focusing on the basics of Bitcoin, smart contracts, and Ethereum, and 'Blockchain Technology', covering distributed consensus, alternative consensus mechanisms to Bitcoin's Proof-of-Work, crypto-economics, enterprise-level blockchain implementations, and challenges of scaling blockchain technology.
Our analysis of this course shows that it's suitable for individuals of all backgrounds, cultivating a rich understanding of blockchain and preparing graduates for numerous roles in the blockchain field.
Pros
Comprehensive curriculum covering technical and non-technical aspects of blockchain
Developed by experts from UC Berkeley's premier Computer Science department
Encompasses a wide range of blockchain topics, preparing students for diverse roles in the field
Accessible to individuals with any background, making it suitable for beginners or those making a career switch
Cons
Lacks hands-on projects, which could limit practical understanding
Why we chose this course
This beginner-level course is perfect for those who are interested in learning about blockchain to pursue a career as a developer. It's completely free, nearly 5 hours in length, and easily accessible on Youtube.
Our analysis of this video course shows that it provides a deep dive into the background and applications of blockchain technology, including its origin, network structure, transparency, and future business applications like Crowdfunding, smart contracts, and supply chain auditing.
In addition to learning how to build blockchain applications using the latest tools, you will gain hands-on experience through real-world projects, setting up private blockchains, and deploying smart contracts on the Ethereum blockchain.
Pros
Provides practical experience through real-world projects and hands-on activities
Suitable for complete beginners and developers interested in blockchain
In-depth coverage of blockchain basics and its potential business applications
Serves as an introduction to Simplilearn's Blockchain Developer course
Cons
Lack of personalized support or instructor interaction due to the YouTube format
Why we chose this course
This intermediate-level course is one of the few blockchain courses that offers instructor-led live online blockchain classes, which provide you with a more immersive experience.
Our findings show that it's suitable for professionals with technical backgrounds, such as software developers, project managers, support professionals, and product managers.
It offers deep insights into the technology behind various platforms like Bitcoin, Ethereum, Hyperledger, and MultiChain.
The curriculum covers a wide array of topics, teaching you the importance of consensus in transactions, developing custom smart contracts using Solidity and Remix IDE, and setting up a private blockchain using the MultiChain platform.
The course also includes real-world projects like creating a property transfer smart contract and a blockchain-based KYC prototype to facilitate practical understanding.
Pros
Live online blockchain course
Explores a range of blockchain technologies
Incorporates real-world projects for a hands-on learning experience
Lifetime access to the course's Learning Management System
24/7 availability of expert help to resolve any technical issues
Cons
Why Should You Study Blockchain?
With blockchain's vast applications, from finance to supply chain, the demand for professionals with blockchain expertise is skyrocketing. According to LinkedIn, blockchain is one of the top five hard skills employers want you to have, underlining its career potential.
Blockchain also offers a variety of career paths, whether you want to become a blockchain developer, solution architect, project manager, or quality engineer. Plus, industries from banking to healthcare are actively seeking blockchain expertise.
It's also nice to know that blockchain professionals earn a lucrative salary, with blockchain developers in the US earning an average salary of $90k+. Also, 77% of people that engage in professional development via courses and other forms of learning have reported career improvements like promotions, pay raises, or even the chance to start a new career.
In a nutshell, learning blockchain can give your career a significant boost!
Final Thoughts
Whether you're looking to enhance your professional skills or are simply intrigued by this transformative technology, blockchain training offers countless benefits, from staying relevant in an increasingly digital job market to unlocking personal and professional growth opportunities.
With various career paths, lucrative salaries, and a rising job market, there's never been a better time to dive into the blockchain field.
To help you on your journey, we've covered the 15 best blockchain courses online in 2023, each offering a balance of theory and practical application, not to mention that they're all taught by knowledgeable instructors.
We've also included a range of free and paid options for all skill levels, so there's bound to be something for you on our list!
Happy learning!
Want to boost your blockchain resume? Check out
The Best Blockchain Certifications
Frequently Asked Questions
1. Which Course Is Best for Learning Blockchain?
The best blockchain developer course depends on your background, learning style, and goals. For beginners and experienced learners alike, we'd recommend Coursera's Blockchain Revolution Specialization, but overall, any of the options in our list are strong contenders.
2. How Much Does a Blockchain Course Cost?
Blockchain courses can range from completely free to several thousands of dollars, depending on the provider and the length of the course. We've included a range of free and paid options in our list for various skill levels.
3. Who Can Enroll in a Blockchain Course?
Anyone can enroll in a blockchain course. You don't even need a wealth of technical experience, simply a willingness to learn and a genuine interest in blockchain technology.
4. Is a Blockchain Certificate Worth It?
Blockchain certificates earned from completing a blockchain course can be an excellent way to demonstrate your competency in this nascent field to prospective employers.
People are also reading: