Here's our long-awaited guide to the best gifts for programmers. We know that gift shopping can be challenging, especially if your recipient is particularly difficult to shop for. Coming up with gifts for programmers can be tough, especially if you don't know them too well or can't for the life of you think of an idea. If you're stressed because you need gift ideas, don't worry!
Below, we have put together a curated list of the best gift ideas for coders and programmers. We made sure to include items at varying price ranges to ensure that you can find something suited to your budget.
Ready? Let's get right to it!
20+ Best Gifts for Programmers
In our guide, we're focusing on practical gifts, the types of things programmers can use in their (our) everyday lives. We did our best to find options for a variety of tastes. After all, gifts for programmers are as varied as the personalities of the programmers themselves!
If there's one thing many coders and programmers like, it's coffee. Or tea. Well, basically, any hot beverage with enough caffeine to help boost their focus and brighten their days.
In this case, the Ember Smart Mug is a great gift for a programmer who always ends up with a cold beverage by the time they remember to drink. Although pricey, this mug can help keep hot beverages hot. It's app-controlled and lasts 80 minutes on a single charge to boot.
If you're looking for thoughtful gifts for coders that are budget-friendly and pragmatic, the OXO Good Grips Sweep & Swipe laptop cleaner is a fantastic choice. This tool works well for laptops but will also clean desktop monitors and peripherals, tablets, and smartphones. You can even purchase an additional keyboard deep clean set if you wish.
If your recipient doesn't already have one, a standing desk like the Flexispot EC1 can be a solid contender for the best gift for programmers. Coders, programmers, developers, and various other professionals in tech-related positions can all benefit from having a standing desk as the convertible desk can reduce the time spent sitting. Standing desks provide plenty of health benefits and can reduce neck, back, and shoulder pain.
You can also give a manual standing desk instead of an electric one if you think this would be preferred.
If a full-sized standing desk is not feasible or reasonable, you can choose to gift a standing desk converter like the Ergotron Workfit-TL instead. Converters like these make excellent gifts for software engineers who don't have plenty of space but still want to be able to convert from sitting to standing with relative ease.
Converters like these are bulkier and can be more of a hassle. However, they allow users to convert any surface into a standing desk. Not a bad tradeoff!
Lap desks can be some of the best gifts for software engineers — especially if they often work from home. This LapGear Home Office Lap Desk is a fantastic choice for programmers who don't like sitting in one place all day. Not only can it hold a laptop and a phone, but it also has a built-in mouse pad to make it easier to use peripherals. Lap desks can also be handy for other things, like eating a meal or writing something out.
You can find similar lap desks in varying sizes, styles, and designs. However, they all provide the same benefits overall.
The Logitech ERGO K860 is one of many ergonomic keyboards coming out today. However, this keyboard is distinctly known for being comfortable to use, easy to adjust to, and relatively affordable compared to other similar options. The K860 is a full-sized keyboard, making it one of the best coding gifts for programmers who spend a lot of time typing.
Although split keyboards aren't for everyone, many find these keyboards extremely helpful when it comes to reducing wrist pain and the risk of carpal tunnel. The K860 even comes with a wrist rest for extra comfortable typing!
If your recipient is notorious for having a messy desk or is known for losing small items like USB flash drives, external hard drives or SSDs, keys, pens, and more, it may be time to gift a desk organizer.
The Wisuce Bamboo Desk Organizer comes in five different options with different drawer sizes. Select the best option for your recipient and help them keep their desktops organized and free of clutter! As a bonus, this product is 100% bamboo and is eco-friendly and sustainably made.
Who doesn't love a great desk lamp?! Govee LED Desk Lamps make some of the best gifts for coders who spend a lot of time at their desks. What makes this anti-glare LED lamp unique is that users can select from warm light, cool light (or daylight), or a mix of both. It also has six brightness adjustments that users can select using easy touch controls. It has a 60-minute timer and also remembers the last setting you selected.
The best part is this lamp also comes with a 5V/1A USB charging port, allowing you to plug in compatible devices without having to look for your charger or a socket.
The Logitech Lift Vertical Ergonomic Mouse isn't for everyone, but these mice can be great gifts for computer engineers who want to keep their wrists healthy despite their long hours spent on the computer each day. Vertical mice can require quite an adjustment, but they can be amazing for those who want to reduce hand and wrist pain.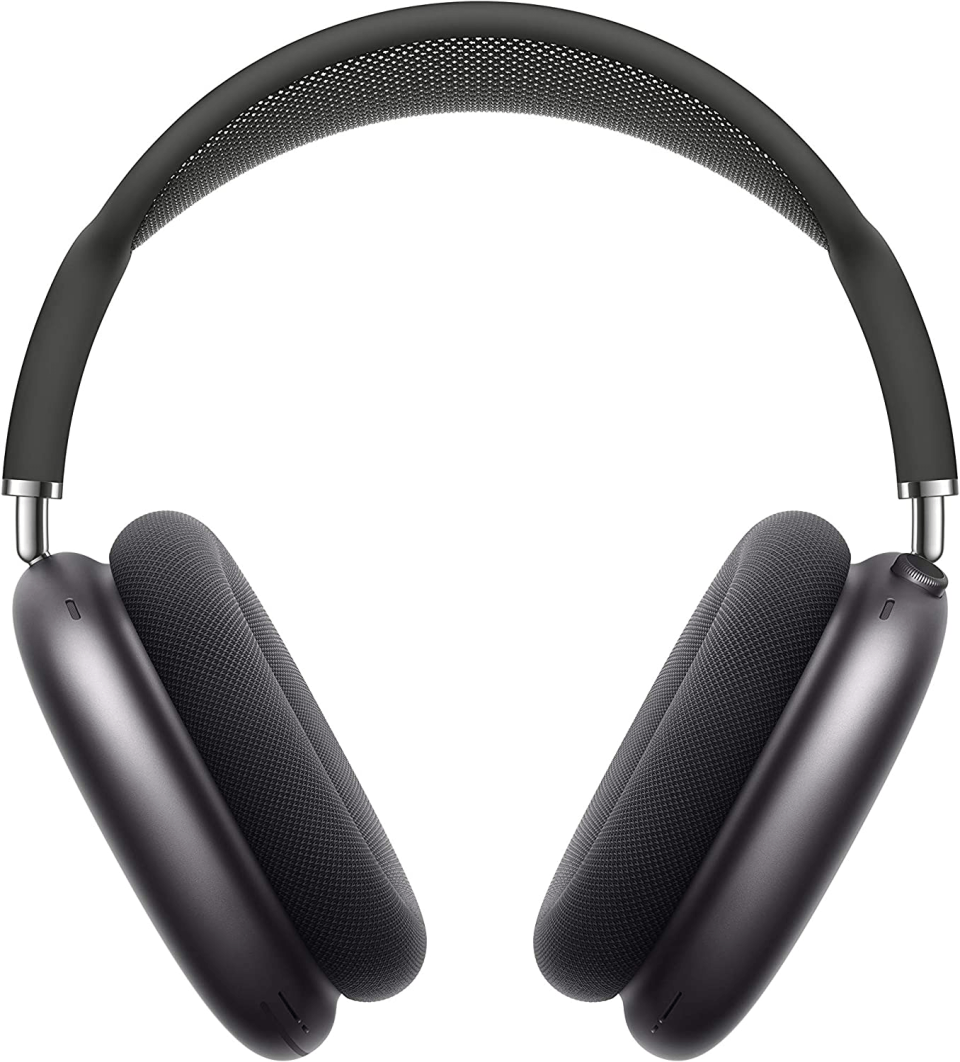 What is there to say about the Apple AirPods Max? These over-the-ear headphones come with active noise cancelation, though they allow use in transparency mode in case users need to hear the world around them. Apple also added spatial audio (surround sound). These premium headphones are pricey, but can truly help developers and programmers improve their focus and reduce the distractions around them.
If this pair costs too much or over-ear headphones aren't ideal, regular AirPods are fantastic gifts for software developers, too. Today, you can gift the third-generation AirPods or the second-generation AirPods Pro.
The Sony WH-1000XM5s have similar features as the Apple AirPods Max, but are more affordable — even though they're also quite premium on their own. These headphones are perfect gifts for coding nerds who need noise isolation and amazing sound quality while on the go.
The Rocketbook Fusion Plus Smart Notebook is a smart notebook with sixty reusable pages. Users can write freely on the pages using an erasable pen like the Pilot Frixion. Once all the pages are scanned into the app, users can then erase the old pages to make them reusable again. These notebooks make handy gifts for computer programmers who write a lot but also want to be more eco-conscious!
Programmers and developers often need plenty of screen real estate to do all of their work. If you want to give the gift of extended monitors on the go, the SideTrak Swivel Attachable Portable Monitor for Laptops is your best bet. These monitors fold away easily, making them easily portable computer programming gifts for the programmer in your life.
If you want something a little more lighthearted and charming, this novelty programmer mug might be the right choice. There are many other mugs with witty or funny sayings on them, but this one just tickled us best.
Programmers and developers often work with tons of files, many of them large. Portable solid state drives (SSDs) can be some of the best computer programmer gifts as they can allow users to store all the files they need and keep them handy. The SanDisk Extreme Portable SSD comes in 512GB, 1TB, 2TB, and 4TB. They can be great backup drives but also make great storage overall. Users can even set this drive up to store apps, video games, and projects without ever having to add another SSD to their laptop or computer tower.
Many programmers are often under time crunches that can truly affect their health and day-to-day lives. Getting enough sleep can be hard enough as it is, and getting goodquality sleep can feel all but impossible.
The Philips SmartSleep Wake-up Light is a sunrise simulation lamp that helps users wake up slowly and naturally instead of being jarred awake by their alarms. It's a simple device that slowly wakes you up by simulating the sunrise, helping you to maintain your natural circadian rhythm. The ideal end result is that you're able to fall asleep more easily because you're waking up naturally.
Everyone wants to be comfortable. Why not give the gift of warmth and comfort with THE COMFY Original? This product is an oversized microfiber and sherpa wearable blanket that allows programmers to get warm and cozy anytime, anywhere. The sleeves allow users to keep working as they do not obstruct the ability to type, etc.
If your recipient loves to read books, you can give them the 6" Kindle released in 2022. This new model now comes with an anti-glare 300 PPI paperlike display and double the storage of previous models. You can choose between black and denim colorways and select whether you want to buy the cheaper model with lock screen ads or pay extra for the no-ads version.
A single charge for this device will last users up to six weeks of use. And although it doesn't look like much, the 16GB of storage included can hold thousands of e-books.
The Aeropress is a fun choice to give to your programmer friends, but it's also suited for just about any other coffee lover out there. This handy little product can allow users to make high-quality coffee on the go as long as they have access to hot water. Now, your recipient can get their caffeine fix without spending extra for pricey coffee from cafes. They can make espressos and then add more hot water to make a long black coffee (also known as an Americano) if they wish.
AeroPress Espresso Makers have been around for quite some time. There are plenty of accessories that can improve their use, such as caddies, portable kits, and even reusable filters to reduce waste over time. You can see some of these accessories below.
The Pragmatic Programmer: From Journeyman to Master is a book written by Andrew Hunt and David Thomas. The book is a great read for any coder, programmer, or developer of any experience level, as it talks about how to program in an easy-to-follow way. It provides plenty of sound and practical advice that can help programmers improve their craft and potentially boost their careers over time.
Part of any programmer's job is figuring out the mystery behind someone else's code. That's why we like this Sherlock shirt. It's available in every size (at least when we checked), and the subtle nod makes it smart without being too on-the-nose with the reference. Note that there's a hoody-version too.
Why Trust Us
Why should you trust us when it comes to gift ideas for programmers? At Hackr, we strive to give only the best and most accurate information possible. We do our best to ensure our readers get quality advice that can truly help benefit their daily lives. The same applies whether we are writing about the best gifts for a programmer, courses, online learning platforms, programming books, programming languages, and so on.
To put together this curated list, we polled the programmers on our staff, asked people on forums and social media, and more. We made sure to include gifts at various price ranges as well so that our readers can find the perfect option no matter how much they are looking to spend.
Conclusion
When it comes to gifts for programmers, you are technically only limited by your creativity. In many cases, it's best to figure out a thoughtful, personal gift — but that's not always feasible for everyone. Whether due to lack of time or not knowing the recipient too well, sometimes you just need to be able to have a quick, easy gift idea in case you need to buy a gift in a hurry.
We hope that this list of programmer gifts has helped you find the perfect present for your situation! What's your favorite gift to give to a programmer? Let us know in the comments below!
Do you want to become a programmer or improve your skills? Check out The Best Programming Courses