The old saying "if you build it, they will come" still works in many situations. However, when building a website in the 21st century, you'll often need to give your website a little help before anyone so much as visits. A good content strategy is crucial for every website — and an SEO strategy should always accompany it. Good content optimized for search engines helps your website rank higher on the search results pages, potentially improving your site's visibility.
Meaning? More clients, credibility, and sales.
Unfortunately, learning search engine optimization (SEO) can be daunting and discouraging to beginners. Luckily, many SEO tools simplify the process much easier all around. Premium SEO tools often prove invaluable — but if you're just starting out, a free SEO tool can do the trick.
We've compiled a list of the best free SEO tools available in 2023. These tools are widely used and provide actual SEO value while remaining absolutely free!
Free SEO Tools in 2023
The list below contains the best free SEO software. We've conveniently put them in categories to help you find one specific to your needs.
Keyword Research Tools
These free SEO tools help you discover keywords people search the web for. The tools on this list often show search volume and competition as well.
Keyword Planner is Google's keyword research tool. It was initially built for people who buy pay-per-click Google Ads, so you won't get the same results as you would from another kind of tool. Nevertheless, Keyword Planner provides useful information for your SEO strategy planning. This tool uses Google's very own data and includes useful features like filtering by country.
Be mindful of features meant for paid ad placements, such as "competition," as this data can throw off your SEO strategy.
Moz Keyword Explorer is an excellent free tool with more than 500 million keywords and keyword suggestions. It also features Keyword Difficulty Score (to determine how hard it would be to rank with a certain keyword) and some CTR data.
If you have a free Moz account, you can make ten queries per month. Each query provides up to 1,000 keyword suggestions and SERP analyses.
AnswerThePublic is a favorite because it provides a ton of information. The long-tail keyword tool is powered by the "suggested search," which auto-completes the search bar as you type. AnswerThePublic visualizes these search questions into an image the service calls a search cloud and then organizes them into various categories, including:
Questions (who, what, where, when, why, how, can, which, will, etc. before a keyword)
Comparisons (vs, and, or, etc. after or in the keyword)
Prepositions (for, near, is, with, etc. after the keyword)
Alphabeticals
Related
AnswerThePublic is a fantastic way to generate questions from a keyword search. You can use it as you create and improve your content strategy, giving you article titles or headlines that have a chance of ranking on SERPs.
Keyword Surfer is Surfer SEO's keyword tool. It's a browser extension you can install on Google Chrome. Keyword Surfer returns the keyword search volumes from Google search results.
Alternatives: WMS Everywhere is another Chrome extension that gives you cost-per-click information, keyword suggestions, and search volume information.
Ubersuggest is arguably one of the best free (and paid) SEO tools available today. Founder Neil Patel kept this SEO optimization tool free for everyone, then further built upon the functionalities available at zero cost.
Ubersuggest first grew in popularity with its Keyword Ideas feature, which you can use to generate various types of keywords. You can use it to find related, preposition, question, and comparison keywords.
Although it was put on the map by Keyword Ideas, Ubersuggest has far more functionality baked in nowadays. Other features like keyword overview, top pages, traffic analyzer overview, and site audit improve your SEO strategy even more.
Ubersuggest is one of the only SEO tools available that offers one-time purchase lifetime licenses. Their monthly paid plans are also more affordable compared to other similar tools.
Recommended Course
The Ultimate SEO Training 2023 + SEO For Wordpress Websites
Analytics Tools
The tools in this category are best for analyzing your website's search performance by monitoring SERPs, competitors' strategies, and keywords.
A tool from Google, GA is one of the most popular and widely-used SEO analytics tools on the planet. It's available entirely free despite its robust feature set, and is quite compatible with other Google SEO products.
Google Analytics provides website statistics as well as basic analytical tools you can use for SEO or marketing. It can also track a website's performance and collect insights on visitors. As a result, you can access user engagement trends and patterns to adjust your marketing/SEO strategies.
Alternative: Open Web Analytics
Bonus: Enhanced Google Analytics Annotations
Search Console is another one of Google's tools that use Google's data. As a result, Search Console is now one of the most useful and most reliable tools for info on how the tech giant crawls and ranks websites, including yours.
Because Search Console limits your downloads to one thousand rows of data, you might need more support. Luckily, you can use another free tool, Google Search Console Data Exporter, to download as many as 25,000 rows of data at a time.
Bing, Microsoft's alternative to Google, doesn't get as much traffic. With only a 2.47% share of the search engine market worldwide, you might feel ranking on Bing isn't as significant as ranking on Google. Although Google has the lion's share, people still use Bing, so ranking there could benefit your business.
Want to also rank up on Yandex's search engine? Try Yandex.Webmaster.
MozCast is another Moz feature that helps you keep track of the Google algorithms' behavior. It tracks daily patterns of Google's algorithm, showing you minor changes that don't get much (if any) press coverage. It shows the patterns over the previous day or the past 90 days. The stormier or hotter the weather is, the more the rankings on Google have changed. In comparison, an uneventful algorithm day sits at around 70°F.
Alternative: Algoroo
Sometimes, Google Analytics data gets returned as [not provided]. When this happens, it can really get in the way of your planning and strategizing. Keyword Hero helps solve this problem by returning the lost keyword, so you can get rid of that 'not provided' metric everyone hates. You can use this tool for free for as many as two thousand sessions per month.
Crawling or Indexing Tools
Crawling/indexing tools ensure that your website is optimized and crawlable so it can appear on SERPs.
SEOlyzer is an excellent log analysis tool that includes page categorization and real-time analysis features. It also offers crawl visualization, which gives you an idea of a website's SEO structure within seconds — including diagnosing internal linking problems. There appears to be a high crawling limit with this tool, with the record high currently being 22 million pages on one site.
Screaming Frog is arguably one of the most popular crawlers today. This desktop-based software comes with a free version that allows 500 URLs or pages per crawl. Although it doesn't offer as much functionality as the paid version, the free version is still excellent for smaller website audits. The best part? The crawling/indexing happens super fast.
Screaming Frog's paid plans are affordable and worth looking into.
Bonus: Screaming Frog Log File Analyzer
SEO Link Tools
Some of the best free tools for SEO are link tools (for backlinks). These tools help you find and evaluate backlink opportunities that benefit your website's ranking.
Link Miner helps you find broken links on each webpage quickly so you can fix them. As a free Google Chrome extension, Link Miner also allows you to see some basic link metrics while you search on Google.
Moz's Link Explorer is an excellent, large link index. With around 35 trillion links, Link Explorer offers incredibly accurate domain authority data, as well as a useful backlink checker. A free account allows ten queries per month, each query returning fifty rows of valuable data.
Link Explorer also adds some basic link metrics to MozBar while you browse.
Ahrefs is well-known and loved by many SEO experts around the globe. As one of the best SEO tools available on the market, they can charge a premium and be rather justified in their rates. But what many don't know is that Ahrefs actually offers a free Backlink Checker tool. Although limited compared with the paid tool, it's still handy for doing SEO on a shoestring budget. It also works well for newbies or smaller websites.
Disavow helps you fight negative SEO, such as links from websites that may be seen as "spammy" or worse. Most websites don't really need the disavow tool, which is why Google makes it hard to find. You likely won't have spammy backlinks unless you were previously the victim of a spam attack or if you once purchased backlinks. If you're working with a fresh website and a brand new domain, you likely won't need to use Disavow at all.
If you choose to use the Disavow tool, remember that you cannot reverse a disavow. So before you do any disavows, do your due diligence and research whether a backlink is truly from a spammy website. Otherwise, you could be removing backlinks that are actually beneficial to you.
SEO Research Tools
Research is a large part of the SEO process. These free tools can help you research and analyze historical, technological, and competitive keyword/SEO data. Some, on the other hand, just help you do simple things like finding contact information.
Hunter is an extremely popular tool that allows you to search for and verify individual or company email addresses and verify email addresses. You get fifty free queries per month, which is often more than enough to get you the email addresses you need.
Need some new, evergreen content for your website? BuzzSumo is a fantastic research tool that gives you access to trending data and top content for free (although you get more with the paid plan, of course). This tool is a cloud-based platform that also has a Chrome extension. BuzzSumo helps you discover new opportunities (content, engagement, outreach) on search and social media.
BuzzSumo has recently upgraded its free trial from one week to one month.
SimilarWeb is the place to go for competitor analysis. This tool helps you research your competitors' top pages, traffic, marketing channels, engagement, and so on. Free plans only return five results for every metric, but it's good enough to give you an idea about your competitors. It's also excellent for finding out information about some of the biggest websites today. The only issue is that SimilarWeb is not perfectly accurate, and lacks data about some websites.
Every website needs a catchy, unique domain game. If you want to check domain availability in bulk, Name.com's bulk domain search is the best place to go.
What tools and technologies do your competitors' websites run on? Wappalyzer allows you to find out for free and improve your own strategies in the process. Keep in mind that advanced reporting will cost some money. With Wappalyzer, you can find out whether a website is using certain tools, such as WordPress plugins and more.
WordPress SEO Tools
WordPress is such a popular content management system that over 30% of the websites on the internet are WordPress-powered. There are currently over 455,000,000 (and counting) WordPress-powered websites, so it only makes sense that there are also SEO tools made to help optimize these pages. The tools below are some of the best SEO free tools for WordPress.
If you've used WordPress for a while, you probably already know about Yoast SEO. Yoast SEO has long been the WordPress SEO plugin. As the most trusted SEO plugin on the CMS, Yoast SEO has been installed on over 30 million websites.
Yoast SEO helps you optimize each page for a keyword or key phrase you set within the plugin. It also returns scores to show you whether you need to continue improving something or if it's good to go.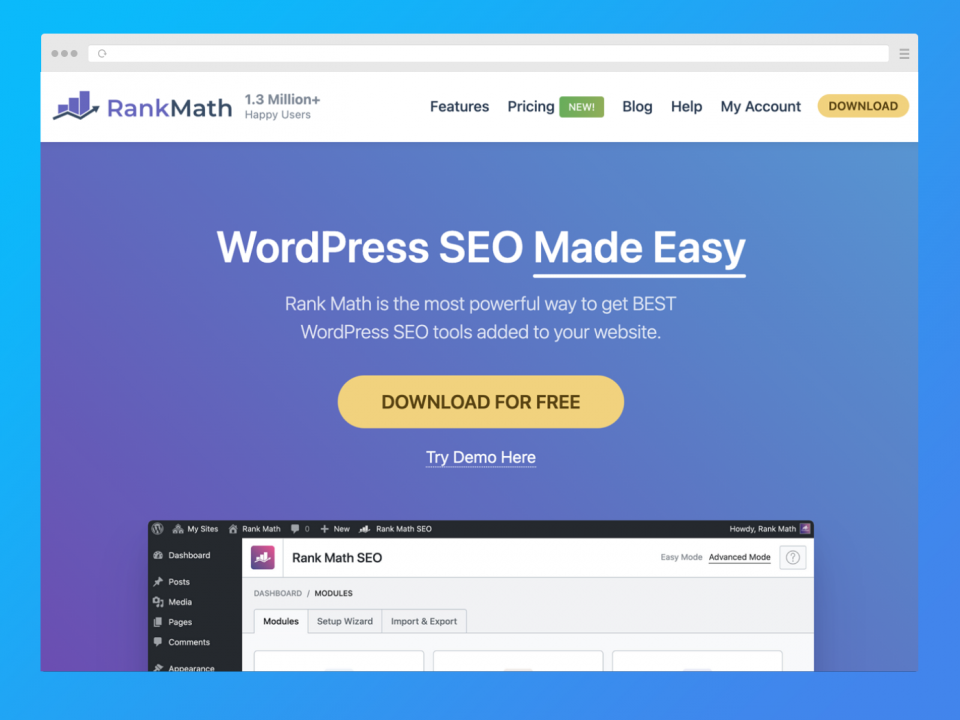 Rank Math is a challenger to Yoast SEO, offering many similar features. It also helps you optimize web content and structure data more digestibly.
Best for Speeding Up Website Load Times
You have an average of eight seconds to grab a user's attention on your website. If your site takes a long time to load, viewers lose patience and click away before they even see your offerings. Even if you have the best SEO strategies for visibility, your bounce rates (the number of people who leave your site immediately after only seeing one page) will go up if your site loads slowly. These tools below can help speed up your loading times!
Google's open-source Lighthouse is often the most up-to-date speed performance tool. Google recommends this tool to evaluate your website performance.
Cloudflare is a free content delivery network that helps speed up your website. It also assists with DNS management and offers you free protection from DDoS attacks. The free plan is often sufficient, but upgrades offer more features for an affordable rate.
The tool speeds up load times, reduces wait times, and lowers bounce rates by caching a version of your website (and static resources), then delivering it to the viewer/site visitor depending on the node closest to them.
Many SEO experts love using GTmetrix to check their websites' performance and find any areas for improvement. GTmetrix is a website speed checker that provides various reports such as YSlow, PageSpeed, and Waterfalls. This tool also visualizes the historic data returned for every analyzed page.
Best for Multiple Purposes
The tools below are multi-purpose and offer varying levels of value to help you improve your SEO strategies.
SEMRush is one of the best comprehensive SEO tools available on the market. At a premium price, SEMRush isn't affordable for many businesses or individuals. However, you can access a free SEO tool if you're working with only one website or project. This tool includes limited keyword reporting, limited domain reporting, and some basic website auditing features.
SEMRush is often an SEO expert favorite and a fantastic choice for marketers who need to plan their marketing strategies.
The paid plan offers a full all-in-one suite of SEO tools that reduces the need for you to use multiple tools for your SEO strategies.
Chrome DevTools is another free tool made available by Google. You can do everything from on-page SEO to JavaScript auditing, helping you improve your website and your SEO all at the same time.
MozBar is an SEO toolbar for Google Chrome created by Moz, one of the best SEO tool providers around today. The MozBar is one of the first SEO toolbars that came around and, over the years, has seen plenty of significant upgrades. A free Moz account will allow you to get metrics on links as you browse the internet. With this toolbar, you can also do on-page SEO and search engine results page analyses.
This free tool is robust and quite useful on its own, but the paid version does come with more features, such as keyword suggestions.
Although SEOquake seems like it might be just another SEO toolbar, there's more to it. SEOquake is in the running for the most powerful toolbar currently available. It comes with many customization options that give the control over to the user, allowing them to adjust the toolbar according to their SEO needs.
SEOquake returns tons of data on each URL you visit. It also allows you to perform tasks like comparing domains, basic on-page auditing, and exporting data.
Conclusion
Premium tools work great and provide a lot of value to help you rank higher on SERPs. However, you'll often need more than one tool — and with so many paid tools and services, those costs quickly add up. Thankfully, some of the best free SEO tools don't have to cost you an arm and a leg. You can use some of the free tools on this list to supplement any paid tools you do use.
Interested in learning more about SEO? Explore the Search Engine Optimization (SEO) Specialization course offered by Coursera!
Frequently Asked Questions
1. Is There Any Free SEO Tool?
Yes, there is plenty of free SEO software, enough to help you start your SEO strategy without spending a dime. Some are free trials, but many tools have free forever plans (check out Ubersuggest or AnswerThePublic, for example).
2. Which is the Best Free SEO Tool?
There are quite a few fantastic free SEO tools, such as Yoast SEO, AnswerThePublic, and Ubersuggest. However, out of all of them, Ubersuggest is one of the best because it has more features.
3. Does Google Charge for SEO?
No. There is no cost for your website to appear in organic SERPs like Google's. You can make the changes you need to your own site to rank higher in results. However, pay-per-click/Google Ads ARE charged.
4. How Do I Get Free SEO on Google?
You can tweak your SEO strategy until your website appears higher on the SERPs with some of the free SEO tools on this list, including Google Analytics.
5. Where Can I Get SEO Keywords for Free?
You can check the free SEO tools online (for keyword research) listed above.
6. How Can I Improve my Google SEO for Free?
The tools listed here each have their use cases. You can check them all out to see whether any of them can help you improve your SEO strategies, at no cost. With an improved SEO strategy, you can climb higher up the search engine results pages.
People are also reading: