Product designers are talented, multi-skilled individuals that merge the usefulness and logic of a product with attractive creativity. They're informed by company values, artistic guidelines, market trends, and of course, unique skills to take a product from conception to market. These extensive skills bring the average product designer's salary to an impressive $102,000, with the top 10% earning as much as $152,000 per year.
But how do product designers gain the many skills needed to create marketable products?
Some have entire degrees in graphic design, computer programming, information technology, or marketing. However, you can supplement your existing skills with one of many product design courses.
Don't know where to start? Keep reading as we walk through our top courses on product design.
Here are the product design classes we'll discuss in greater detail:
Featured Online Product Design Courses: Comparison
Ranking Criteria for Paid and Free Online Courses for Product Design
So, how did we decide how to rank each online product design course in our list? The web is full of online courses, from university degree programs to free sites like Coursera. We chose our selection of product design courses based on:
Reviews: The courses on this list have minimum ⅘ stars with primarily positive reviews, some with thousands of reviews from students all over the world.
Relevance: We looked at courses either launched or updated in the last few years.
Instructors: Many instructors on our list are professors at world-renowned universities. However, we took a special interest in instructors in executive positions at software or other companies that regularly create and send new products to market.
Flexibility: Every course on our list has a minimum online option and self-paced modules that don't restrict you based on the time of day.
Ready to learn product design without having to leave your home? Let's march on to our list of product design online courses.
7 Best Product Design Courses Online
Here's a deep dive into some of the market's most exciting product design courses!
This two-month course is a Udacity favorite, covering user interface (UI) and user experience (UX) principles to help intermediate designers ideate and develop products. Course materials center around insights from Google's senior product engineers through interviews and case studies. The course also touches upon key metrics and the Design Sprint — a productivity process by Google taking products from design, prototype, and testing.
Instructor Amir Shevat has proven experience developing SaaS tools and founded Innovation Endeavours. Chris Saden is a seasoned software developer in the medical field.
Instructor(s): Chris Saden & Amir Shevat
Price: Free
Prerequisites: None
Key feature: Google Design Sprint
Level: Intermediate
Length: Two months
Pros: Expert instructors and affordable
Cons: Google's direct Coursera course might be more relevant for students specifically interested in Google methodologies
The University of Maryland offers this video-based product design course online for students especially interested in prototyping. You'll learn about basic product ideation, wireframes, 3D renderings, and prototype testing. Students also pick up great communication skills to help translate their conception into a marketable product.
This Coursera product design online course is taught by a software development company CEO (Schnetlage) and leading professor Dr. James V. Green, who founded and directed many cybersecurity startups before his tenure.
Instructor(s): Cait von Schnetlage & Dr. James V. Green
Price: Free
Prerequisites: None
Key feature: Cybersecurity and intelligent software focus
Level: Beginner
Length: 12 hours
Pros: In-depth prototyping process education and project-management based methods
Cons: Some students complain about a lack of technical content in the course materials and that the instructor rambles a lot.
This eDX course is a great generalist course for aspiring product designers, walking through the entire process. The unique, early focus on user behavior insights in the course is especially valuable for product designers with a marketing interest.
The professor, Daalhuizen has an extensive background in industrial design. Finally, users learn how to use key design methods to take products from thought to delivery.
Instructor(s): Jaap J.J. Daalhuizen & Annemiek van Boeijen
Price: Free; $106 on verified track
Prerequisites: Basic design experience; familiarity with design thinking
Key feature: Awarded 2015 Open Education Award for Excellence
Level: Intermediate
Length: 7 weeks
Pros: Audience and market research component
Cons: A bit outdated
Storyboarding, experience economy, user surveys, and process ideation are only a few of the many topics covered in this UI-focused product design course. Out of all the courses in product design on our list, Sutcliffe's feels the most comprehensive, diving deep into case studies like Tinder and Uber, instructing students on audience research techniques, and design process issues and how to address them.
Instructor Rob Sutcliffe is a UI/UX designer with 15 years of education experience, well-reviewed by the 6,000+ students who took this course.
Instructor(s): Rob Sutcliffe
Price: $16.99
Prerequisites: Figma account
Key feature: Case studies and extensive audience research
Level: Intermediate
Length: 15 hours 30 minutes
Pros: Comprehensive; well-rated across thousands of reviewers
Cons: Heavy focus on critical thinking over actual practice, not well received by some students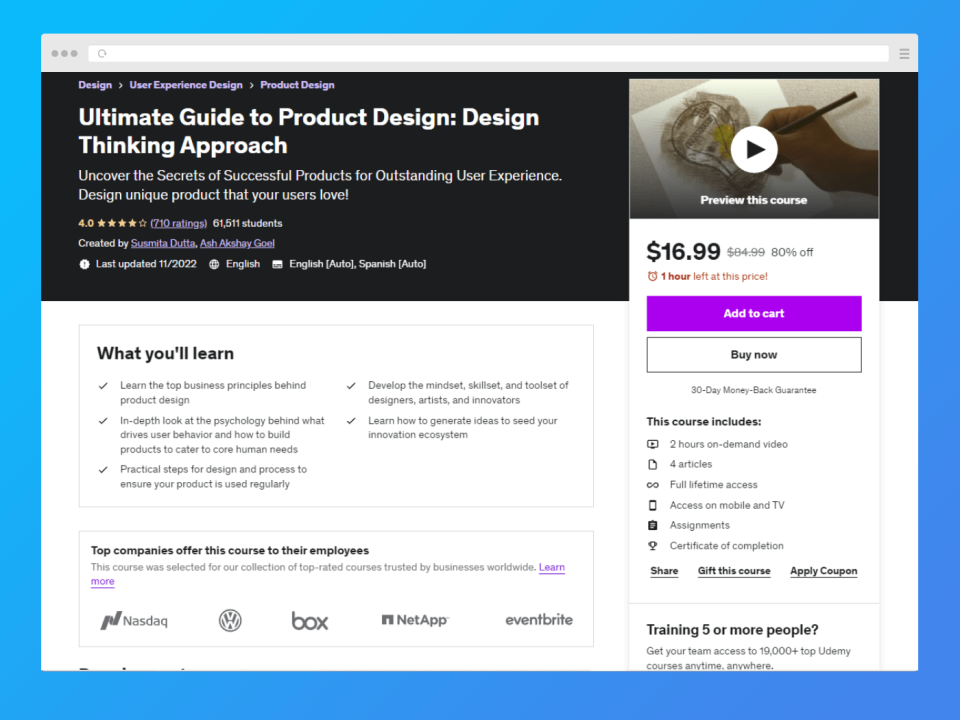 Dutta and Goel are professional performance coaches that add a unique lens of user psychology in this fascinating product design course.
You'll learn in-depth practices and information about design principles, from emphasis and movement to space and textures. Students praise the course's accessibility for beginners, but lament a lack of visual aids for certain sections.
Instructor(s): Susmita Dutta & Ash Akshay Goel
Price: $13.99
Prerequisites:
Key feature: Deep dive into design principles
Level: Beginner
Length: 2 hours
Pros: Design thinking approach
Cons: Limited content on user interactions and small testing section leaves more to be desired for practical study
If you're interested in going into business for yourself, whether that means freelancing or starting an agency, you'll need to solidify a pricing strategy. Product design courses don't always cover this important, entrepreneurial topic, which is why this course by industrial designer Emilliano Godoy earns a spot on our list.
Godoy covers the basics, like bringing ideas to fruition. But he dives into pricing by helping students understand production cost management, cost calculations, and profitability.
Instructor: Emilliano Godoy
Price: $11.90 (regular $72)
Prerequisites: None officially; ideally some design background
Key feature: Valuation and pricing
Level: Beginner
Length: 2 hours 25 minutes
Pros: Covers the business side of product design
Cons: Doesn't include much information about prototyping
We haven't covered too many niche subjects within the product design field, but we feel this illustration-focused product design class deserves your attention. If you're an illustrator or artist, that is. Why? Because illustration isn't limited to drawing and painting like once before. Today's graphic designer and programmer might exercise their illustration skills online, too — the perfect recipe for art-based products.
But the traditional sketcher can also thrive in the product design field — we're talking specific products like stationery, templates, clothing, and more. Another business-focused course, instructor Paola teaches students to create an e-commerce store and launch an art collection into various products.
Instructor: Paola Yuu
Price: $11.90 (regular $72)
Prerequisites: None; beginner friendly
Key feature: Illustrator-focused
Level: Beginner
Length: 1 hr
Pros: Special interest in illustration; short and sweet
Cons: Hyper-specific and not relatable for all designers
Conclusion
These product design courses are a fantastic first step into a new career, knowledge expansion, or pivot to a new specialization.
If the world of product design interests you, perhaps you can supplement your knowledge further with a deep dive into UX Design.
Explore top UX design courses today.
Frequently Asked Questions
1. How Can I Learn Product Design?
You can learn product design by enrolling in any of the courses on this list. You might also consider reading books on graphic design and user experience, as well as watching YouTube tutorials from experts in the field.
Of course, you can also specialize in a four-year design program at university, though your portfolio is what's most valuable in scoring a job.
2. What Makes a Product Design Effective?
The most effective product design caters to the end-user — it recognizes their pain points and solves them with ease.
3. What is the Best Online Course on Product Design?
Out of all the product design courses on our list, Udemy's Master Digital Product Design course has the highest proportion of positive reviews and the most robust, comprehensive structure.
4. Are Product Designers Well Paid?
Yes. Product designers are paid an average salary of $102,000, while higher-end product designers earn $150,000 and beyond.
5. Is There a Demand for Product Designers in the US?
Yes, as long as there is a demand for problem-solving in every industry, product designers will be in high demand. They are especially coveted in hot spots like New York City and Sacramento, California.