Who is a Data Analyst and What Does A Data Analyst Do?
We are in an era where we are both consuming and generating data. About 2.5 x 10 billion of data is consumed and generated by searching something, or messaging anyone or even browsing the Instagram feed. Business uses data analysts to help as data analysts use their skills and tools to provide competitive analysis and magnify trends within the industry. Data analysts deliver value to the companies by taking information about specific topics and then interprets, analyzes, and present findings and comprehensive reports.
Let us move forward and discuss what does a Data Analyst does?
Data Analyst Responsibilities
Depending upon the level of expertise, a Data Analyst may:
Determine Organizational Goals: Data analyst determines the organizational core that involves working with IT teams management and data scientist understanding the business and acting according to it.
Mine Data from Primary and Secondary Sources: Data mining is the process to structure the raw data and formulate or recognize the various patterns in data through various insights. Data analysts have to mine or collect data from the company database or extracting it from external resources to do any sort of research.
Clean and Prune Data: Cleaning the data is the first step in the data preparation process and is the process of analyzing, identifying, and correcting messy and raw data. When analyzing organizational data to make strategic decisions data analysts must start through the data cleansing process. The good analysis rests on clean data as cleaning involves removing the data that may distort the analysis.
Analyze and Interpret Results: The role is much needed for data analysts. Analytics is the art of exploring the facts from the data but specific to answer a specific question. It is the process of using analytical and logical reasoning to examine each component of the data provided one uses standard statistical tools to standardize and interpret the data.
Pinpoint Trends, Correlations, and Patterns in complicated data sets: Another major role of a data analyst is pinpointing the trends and patterns the last time of data analyst is spent on finding trends, correlation, and patterns. The analysts look for both short term and long term trends and observe the performance and then predict business insights.
Provide Concise Data Reports and Data Visualizations: Reporting translates raw data to information that helps companies to monitor their online business and keep a check of when data falls outside of the expected range.
Design, Create and Maintain Relational Databases and Data Systems: Maintaining databases and data systems ensures that the storage availability and coherence of electronically stored data is always met to an organizational needs. Data analysts must have technical expertise regarding data model data-based design and development to make the best use of it they develop and maintain databases.
Suggested Course
Data Analysis Masterclass (4 courses in 1)
Data Analyst Salary
Demand for data analysts is increasing exponentially as the work is also quite demanding and involves expertise in the area of programming, machine learning, data munging, and data visualization. And so this role offers quite competitive salaries as well. Industry, years of experience, and their educational background and their skills are the driving factors that decide the average salary of data analysts. A potential candidate for this role would be an analyst who owns a master's or a Ph.D. degree and thus would earn more.
As per Glassdoor, the average data analyst salary in different countries is depicted below:
United States
India
United Kingdom
The graph below demonstrates how much does a data analyst makes hourly in these States: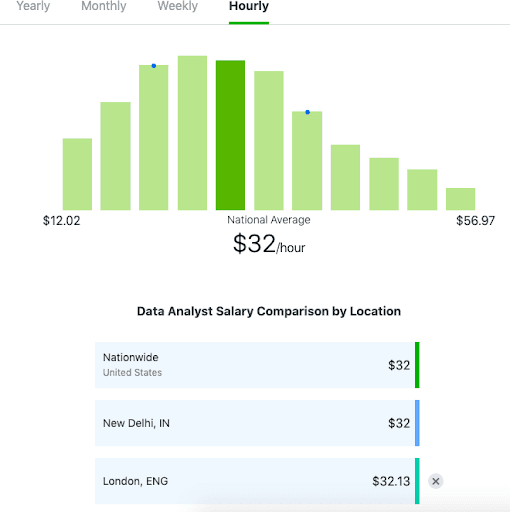 Source: ZipRecruiter
Data Analyst Salary Deciding Factors
The Data Analyst Salary depends on many factors:
Education and Qualification
Experience Level
Industry
Impact of Location
Let us look deep into these factors:
1. Education and Qualification
Getting a Bachelor's degree is the essential requirement for an aspiring data analyst. The candidate can have a degree in either Computer Science, Statistics, Math, or any other related field. A master or Ph.D. is a must for a mid-level or senior-level analyst. The degree chosen must have specializations in the following areas:
Statistical Modeling: specializes in quantitative analyst
Evidence-Based Modeling: teaches developing an understanding of how advanced analytics can be used to reduce decision-making uncertainty.
Informational Design: Broadens and deepens the understanding of standardized data flow, management, and reporting processes.
2. Experience Level
The experience level of a candidate plays an important role in recruiting data analysts.
Discussed below are different levels of experience that a data analyst comes across in its career map.
2.1. Entry-Level
| | | |
| --- | --- | --- |
| Compensation | Salary Range in India | Salary Range in the US |
| Salary | $172-794 - $716,015 | $ 40,585 - 78,832 |
| Bonus | $ 6,134 - $104,519 | $ 980 - $ 9,597 |
| Profit-Sharing | $ 1,500 - $101,130 | $ 609 - $6,996 |
| Total Pay | $ 174,667 - $ 753,908 | $ 36, 998- $ 79,400 |
2.2. Mid-Level
| | | |
| --- | --- | --- |
| Compensation | Salary Range in India | Salary Range in the US |
| Salary | $289,109 - $1,186,711 | $45,244 - $ 91,092 |
| Bonus | $10,049 - $172,576 | $982 -$10,257 |
| Profit-Sharing | $25000 | $503 - $12,193 |
| Total Pay | $291,811 - $ 1,213, 053 | $ 41,256 - $ 92,976 |
2.3. Senior-Level
| | | |
| --- | --- | --- |
| Compensation | Salary Range in India | Salary Range in the US |
| Salary | $ 363,414 - $1, 970, 089 | $45,280 - $ 99,542 |
| Bonus | $ 14,544 - $ 255,321 | $996 - $10,585 |
| Profit-Sharing | $ 12,500 | $1,010 - $12,164 |
| Total Pay | $ 372,184 - $2,038,069 | $40, 831 - $101,273 |
The graph below shows the range of salaries for different levels of experience for analysts.
3. Industry
Differences in salary also depend on the demand for that industry and what industry an analyst works. Finance, insurance, healthcare, professional services, and IT are some top and popular areas that provide good salaries for data analysts.
The table below mentions the most in-demand data analysts' occupations with their projected growth by 2022.
| | | |
| --- | --- | --- |
| Industry | Salary | Projected Growth by 2022 |
| Financial Data Analyst | $83,209 | 16% |
| Clinical Data Analyst | $72,690 | 14% |
| Business Data Analyst | $72,483 | 18% |
| Human Resource Data Analyst | $65,586 | 12% |
| Pricing Data Analysts | $65,319 | 13% |
4. Impact of Location
Location is a driving factor in deciding the salary of an aspiring or professional data scientist. Geography plays a vital role like major metropolitan cities would have more demand for data analyst professionals than in the suburbs. Many startups are also starting their business and using data analysis for their growth.
Graph below shows how location and geography plays an important role:
Summary
Organizations these days rely primarily on data analysis for their business insights. It is recommended that if you an aspiring data analyst, you should consider the following factors listed above. So, select an appropriate degree, give a kick start to your career with a fair pay job, and finally choose your work industry and workplace wisely. Considering these factors would contribute largely to your salary.
I hope this article was informative enough to weigh the factors that determine a data analyst salary.
Do you have any feedback or queries? Comment below!
People are also reading: