The team at Hackr.io evaluated several project management tools. Complex tasks require detailed organization. That's why professionals rely on project management tools. For this reason, we evaluated the most popular project trackers and resource allocators in the industry. The result? Here are 21 of the best project management tools of 2023.
So what are they? Project management tools are specially-designed software applications that assist individuals and teams with planning, executing, and monitoring their projects effectively and efficiently. Our evaluation considered their scope. It also considered their cost, use cases, and platform.
Note that our research into project management tools also covers the best project tracking tools, as these serve as a vital part of the project management ecosystem. We evaluated dozens of options to find the best choices.
Teams use project management tools for scheduling, task management and delegation, resource allocation, and tracking, all of which can help to streamline workflows and improve collaboration. Read on for our list of the best project management tools of the year.
Editor's Top Picks:
Some of the most popular PM tools today include Monday.com, Asana, Trello, and ClickUp. There are plenty more great ones to consider, so we put together our list of recommendations below to help you find something to suit your needs!
What is Project Management?
A project comprises tasks and subtasks that require completion to reach predefined and specific outcomes. We can also define a project another way: as a series of team inputs and outputs delivered to achieve the goal.
Projects vary in complexity, Some are simple and manageable by one person or a small team, while others may be more involved and require dozens more team members.
Project management involves the processes of planning, executing, and managing a project from beginning to end. In project management, teams manage resources like budget, scope, time, quality, and more to achieve predefined goals.
For the project's success, project managers and team leaders must have certain skills and knowledge, including but not limited to communication, leadership, problem-solving, analysis, time management, and risk management.
Looking for a job in this area? We created a list of vital project manager interview questions to help get you started.
Project management follows a predetermined project lifecycle. This lifecycle typically includes everything from the initiation, planning, and execution of a project to its monitoring, controlling, and wrap-up.
Related: Top 15 Software Development Tools You Should Use in 2023
What Are Project Management Tools?
A project management tool is usually a software application or platform that assists project managers in doing their job. Such tools often assist leaders and managers with planning, executing, and controlling the project (or projects). They also help project managers with staying organized, communicating with their teams, tracking progress, and ensuring that deliverables are submitted on time and within budget.
Project management tools use techniques and methodologies to automate mundane and routine tasks, therefore saving teams time in the process. Teams can rely on these tools to automate resource allocation, scheduling, budgeting and cost tracking, and reporting. Some popular project management methodologies include Agile, Waterfall, Scrum, and Kanban.
Project tracking tools offer features that assist with:
Planning and Scheduling - A PM tool will typically have features that allow managers and teams to plan projects, tasks, and subtasks. Such tools can also have workflows, calendars, templates, and folders, which help to keep everything organized.
Team Collaboration - Teams need communication tools to further enable collaboration. Many tools allow task delegation, commenting, tagging, messaging, and more to help streamline workflows.
Documentation - Many project management tools have file management features allowing the storing, editing, and versioning of uploaded files. Search features make it possible to keep track of files, preventing them from getting misplaced.
Evaluation - Project management apps often offer features that help teams assess and track their progress and productivity. These features may include metrics, timelines, reporting, and other resource management.
Why Are Project Management Tools Important?
With a growing need for project management jobs, you need to understand the tools of the trade. We expect to see 22 million new project manager jobs created by 2027. So you may still be asking — why should you use a software project management tool? What benefits could you stand to gain over simply developing your own management system?
Project management tools typically offer features and functionalities that take a lot of the work out of the process, reducing the amount of work you'll need to do along the way. From planning to progress tracking and reporting, these tools will allow you to optimize workflows to ensure efficiency.
Here are the benefits you can expect from using a project management app:
They can help teams to organize and track task groups, tasks, and subtasks.
There are often many features included in project management tools that allow users to track their progress or a task's status along the way.
Project management apps allow teams to collaborate and communicate better thanks to features like messaging, commenting, tagging, reactions, and more.
With a better-planned and organized project, teams can allocate and manage their resources and time more effectively.
Project management tools help boost project transparency while also increasing the accountability for each team and team member. Well-planned projects and properly delegated tasks can reduce the risk of delays and errors.
The insights and performance data provided by the PM tools allow management to make better, more-informed decisions with regard to the direction of their project.
Overall, using project managing tools can help improve the project's outcomes thanks to potentially improved efficiency, collaboration, and team productivity. Note that those leading tech teams have even more specialized organizational tools available. The community at Hackr.io collected information on all the most popular options and evaluated them for value. To see the results, check out our list of the best software testing tools of the year.
The 21 Best Project Management Tools in 2023
Our team evaluated the most popular project management tools. We looked at the organizational abilities of each, the availability for large and small teams, and overall cost. That's how we landed on the pros and cons for each. Below is our finalized list of the best project management tools. Let's review the results.
Pros
Mobile apps available for on-the-go access
Free forever plan available
Tons of integrations
Real-time collaborative editing and commenting
Page history and versioning
Cons
Requires 10 users minimum
Can be expensive
Has a steep learning curve and can be challenging for new users
Limited design and customization options
Why we chose this tool
Confluence is a comprehensive and collaborative project management platform. It's flexible and offers tons of integrations, making it easier to fit into your existing tech stack. Confluence also allows users to create templates and put together knowledge bases to create a central information repository. It also allows real-time collaboration with editing and commenting.
Made by Atlassian, this project tracking platform ranks best for large companies. It integrates easily and ensures teams around the world can quickly communicate on vital tasks.
Pros
Colorful, user-friendly customizable interface
Timelines and charts
Likes, @-mentions, GIFs, and emojis
Easy-to-use, guided automation included with higher paid tiers
Tons of integrations
Cons
Not the easiest to learn for beginners
Timelines and Gantt charts require higher-paid plans
Pricing structure is somewhat convoluted
Why we chose this tool
Monday.com is a popular and powerful project tracking tool that offers customizability and an intuitive user experience. The tool is easy to navigate and offers a variety of views and layouts, allowing users to choose one that best suits their project management needs.
Monday.com's workflow automation, task management, time tracking, and reporting tools help teams with streamlining processes. Our research shows this as not only one of the best project tracking tools, but as a standard choice for companies of all sizes.
Pros
Robust and feature-rich free forever plan
ClickUp 3.0 will be released soon and could be very interesting
Highly customizable UI with various layouts and views
Has collaboration and communication features
Manage tasks as needed
Detailed reports and analytics
Cons
Can be too feature-heavy for less complex projects or smaller teams
Mobile apps have more limited functionality
Why we chose this tool
ClickUp isn't just a project management tool, either. While it has Kanban features for project managers, it was designed to take the place of many other apps, allowing you to consolidate your tech stack and streamline your work processes. The best part about this tool is that it is incredibly versatile — you can choose your layout or view (List, Board, Box) depending on your preference.
Our experience ranks ClickUp as a popular project tracking tool with detailed reporting and customization options.
Pros
Great for various team sizes
Simple and user-friendly
For personal or professional use
Has collaboration features
Integrates with other apps and services
Customizable UI
Automate workflows
Cons
Apps are not the best
Less functionality compared to more complex and feature-rich tools
Free version feels limited
No time-tracking or invoicing
Can easily become cluttered
Why we chose this tool
One of our favorite things about Trello is its simplicity. This tool uses the Kanban-style of project management and allows users to create boards to manage their projects. Users can add tasks (with subtasks) using cards, which users can move from one phase to the next. It's a visual style of project management that makes it easier to track progress.
Trello is incredibly easy to use, which means even newbies can pick it up quickly with little training necessary. Our testing shows that ease of use was one of its most important features. We rank this as one of the best project tracking tools for small teams.
Pros
Flat rates for subscriptions (no per-user fees!)
Choose from a variety of views
Customize your workflows
Use collaborative tools
Project templates can help save you some time
Comprehensive feature set
Cons
No free forever tier
Mobile apps are limited
No desktop apps
Limited integrations
Expensive for individuals or small teams
Why we chose this tool
One thing that makes ProofHub stand out is that it offers a flat rate rather than a per-member monthly fee, making it a great choice for teams. Individuals and smaller teams, however, may find the pricing too high. We also included ProofHub on this list thanks to its vast wealth of features, including a variety of UI views that can help you set up your dashboard however you wish.
When we evaluated ProofHub, we were delighted by the pricing model and templates. These features helped us rank it among the best project tracking tools for mid- and large-size businesses.
Pros
Tons of integrations available
Choose between calendar, list, and board
Customizable
Has collaboration features
Widely available
Cons
Only allows tasks to be assigned to one person at a time
Slightly buggy mobile apps
Why we chose this tool
Asana is one of the best and most popular project management tools today, which means you won't have any trouble finding third-party integrations. It's versatile and works for individuals and teams of various sizes. Users can switch between different views according to their preferences and enjoy the myriad features designed to help them streamline work processes.
As a tool we use everyday, we absolutely rely on Asana for project tracking. It's not perfect, but it's certainly one of the best project tracking tools for multi-purpose planning.
Pros
Decently affordable pricing plans
Tons of integrations available
Enables team collaboration with communications tools
Time tracking
Cons
Somewhat complex and may be challenging for newbies
Not as feature-rich as other PM tools
Mobile app is limited
Why we chose this tool
Zoho Projects may not be as feature-heavy as other project management tools software, but it's certainly still worth considering. We recommend it to teams who don't need too many features from their tools, especially given the affordability of Zoho Projects.
Pros
Tons of integrations
Get detailed reports and analytics
Offers advanced security features to prevent breaches
Encourages collaboration
Customize your workflows and task management
Cons
No month-to-month subscription, annual pricing only
Not the best option for smaller teams and individuals
Advanced features locked behind paywalls
Why we chose this tool
Wrike is a tool well-suited to teams, though we'd recommend it more to mid-sized teams and above. Unfortunately, due to its pricing and feature set, Wrike isn't the best option for individuals and smaller teams.
That said, many Wrike users enjoy its customizable workflows, visual project timelines, and the availability of integrations. Teams can also get detailed reports and analytics on their project's progress, making it easier to make informed decisions.
Pros
Available on most platforms
Affordable unlimited plan offers excellent value for smaller teams and organizations
Easy to use even for newbies
Has all the features needed in a project management tool
Cons
Limited customization options
Reporting tools are not as great as other tools
Limited scalability, best for small to medium teams
Why we chose this tool
Basecamp is a great tool for small to medium-sized teams thanks to its affordable Basecamp Pro Unlimited plan. The plan allows teams of unlimited users access to all of the features on the platform, including all of the apps you can download for your convenience.
We like Basecamp for its ease of use. Like the rest of our choices for the best project tracking tools of the year, it doesn't require much training to get started. Our experience shows it tends to work well for small and mid-size companies.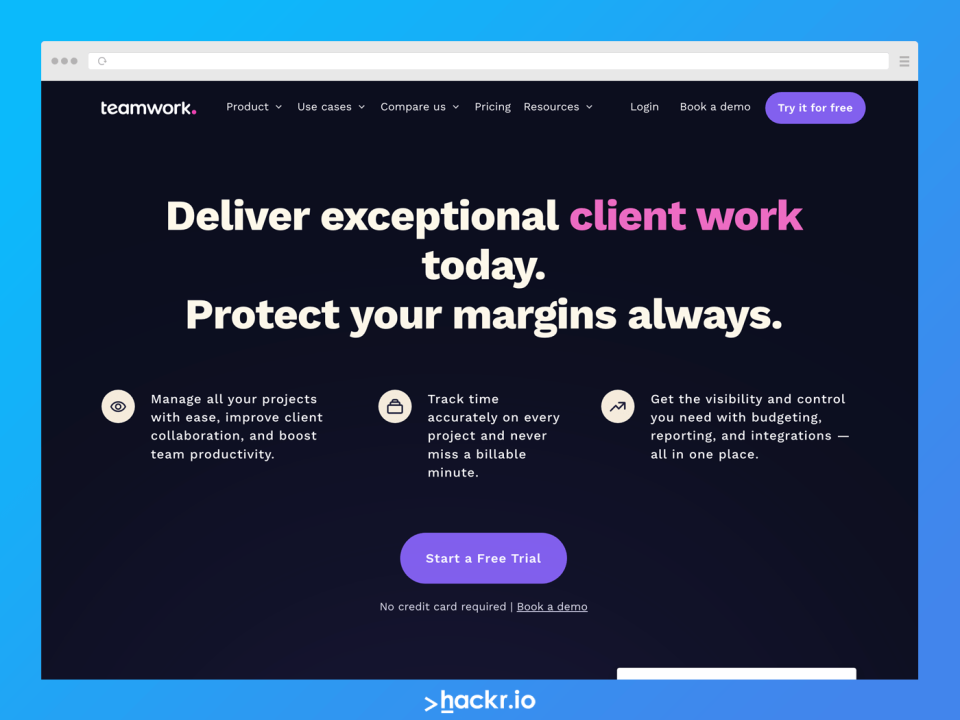 Pros
Available on most platforms, download a convenient app for your needs
Plenty of integrations are available
Enables collaboration through real-time communication
Offers practically all the features you need from a PM tool
Cons
Limited branding and design customization options
Reporting features could be better
Can be costly
Not the easiest for newbies
Why we chose this tool
Teamwork offers all the features you need from a PM tool, including real-time communication features for collaboration and project templates for ease of use. You can also easily add Teamwork to your existing tech stack thanks to its numerous integrations.
Pros
Highly customizable
Comprehensive feature set
Compatible with Agile methodologies (Scrum or Kanban)
Tons of integrations available
Great community support
Cons
Can be sluggish if your organization or projects are too big
Steeper learning curve
Requires significant time investment for customizing workflows and integrations
Can get expensive depending on team size
Why we chose this tool
Jira is another one on the list of the most popular project management tracking tools. It's a powerful tool that enables teams to create, manage, and track tasks and workflows both efficiently and effectively. Thanks to its customizability, Jira can be quite versatile and adaptable to your needs.
This is the second time we're mentioning Atlassian in our list of the best project tracking tools. Like Confluence, we found Jira tends to serve mid- and large-size companies very well.
Pros
Intuitive interface
Versatile and customizable
Offers real-time collaboration
Tons of integrations
Excellent reporting and analytics tools
Cons
Limited automation
Not the best for complex projects
Larger teams may find pricing expensive
Not as advanced as some other tools
Might be challenging for beginners
Why we chose this tool
If you're looking for a unique project management system, Smartsheet might be one to try. This tool offers a unique spreadsheet-like experience to teams who need tons of integrations and robust analytics and reporting tools. Smartsheet also offers features that allow for real-time collaboration.
Pros
List or board view
Plenty of integrations
Simple and intuitive
Available on all platforms
Some collaborative features available
Todoist quick add feature
Cons
Better for individuals and smaller teams
May be too simple for some needs and use cases
Limited free version
Why we chose this tool
Todoist encourages productivity with daily streaks and the Todoist Karma feature, making it easier to stay on target. You can view your tasks in either list or board form, so you can set your workspace up how you prefer. We like that Todoist has a quick add feature to make creating tasks a breeze and that it's available on any platform you can think of.
Pros
Tons of integrations
Great for mid to large teams
Works with Scrum, WBS, Kanban, and more
Customizable templates
User-friendly UI
Cons
Limited mobile app functionality
Limited customization options
May sometimes be buggy
Why we chose this tool
Easy Project is a cloud-based PM tool that offers tons of integrations, customizable templates, and a user-friendly UI. Easy Project is great for mid to large teams and works well with different project management methodologies like WBS, Kanban, and Scrum.
Pros
Available on most platforms
User-friendly and well-designed UI
Plenty of integrations
Time tracking
Team collaboration tools
Visualize with Gantt charts
Robust analytics and reporting features
Cons
May have too many features for smaller teams/projects
Limited customization
Slightly pricey
Why we chose this tool
Hive helps teams simplify projects with templates, document/video proofing, and approve workflows. This tool tracks progress automatically and offers robust reporting features on top of time tracking and team resourcing. It also promotes transparency and helps encourage team communication. Plus, it's widely available!
Pros
Allows users to consolidate tools
Visualize tasks and data
Widely available
Track information
Makes collaboration a breeze
Incredibly versatile
Many integrations
Cons
Can be overwhelming for new users
Limited customizations for certain things like task management
Why we chose this tool
If flexibility is what you are looking for, Notion could be worth a look. This tool can take the place of many others, further streamlining your work processes. Notion can be used as a note-taking app, but it is also capable of project and task management, collaboration, document and file storage, and many other features. Utilizing Notion templates can help your process go more smoothly and quickly.
Pros
Detailed time tracking and invoicing
Resource scheduling and planning
Custom reporting
Many integrations
Plan/measure team progress and productivity
Many use cases
Cons
No free forever plan
Limited budgeting and financial reporting features
Not the best for larger teams
Why we chose this tool
Teamdeck is a fantastic tool that offers many use cases — it's great for finance, software houses, product teams, creative agencies, and more. This tool makes resource planning and scheduling easy, allowing teams to plan their projects more conveniently. It's also relatively affordable per team member, though you'll need to pay for "basic resources".
Pros
Many integrations
Excellent onboarding program with training
Great support
Intuitive platform and UI
Comprehensive project management features
Customizable templates
Time tracking and invoicing
Cons
Expensive
Steep learning curve
Web-only
Why we chose this tool
WorkZone isn't the cheapest tool on this list, but it's an excellent choice thanks to its comprehensive project management features. The price is also further justified by the excellent onboarding program offered by the company — each team goes through this process for a needs assessment, planning period, and customized setup. Then, teams get access to unlimited training.
WorkZone also offers plenty of integrations to make it easier for you to add it to your tech stack. And if you're ever stuck or need a helping hand, WorkZone provides quick support via call, email, or chat.
Pros
Gantt charts
Shared calendar for task planning
Progress tracking
Easier collaboration, real-time notifications, commenting
Project prioritization
Affordable!
Cons
Challenging to get started with may require training
Mobile apps could use some work
Why we chose this tool
As with many of the tools on this list, ProPofs Project allows you to plan and deliver your work on time using various PM-related features. You also get the ability to track time and create invoices, thanks to the built-in features that also allow you to manage clients.
ProPofs Project is one of the most affordable options out there — you can get a plan at only $39.97/month billed annually for unlimited users. That certainly beats many of the other PM tools, which can cost hundreds or even thousands of dollars depending on the size of your team.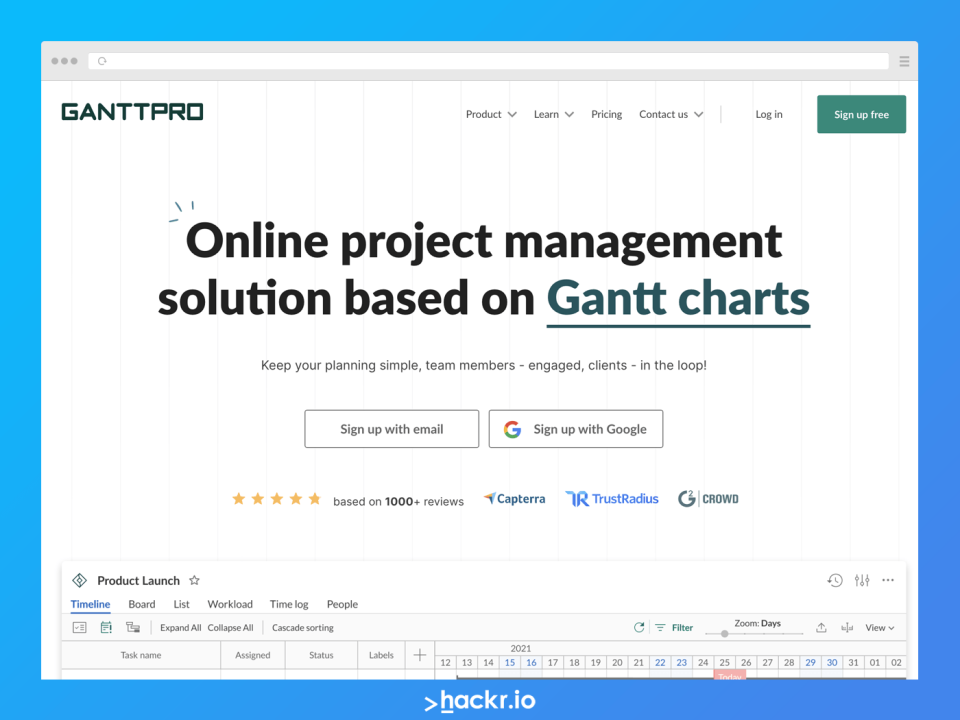 Pros
User-friendly UI
Makes visualizing project and task management easier
Track deadlines and progress
Budget tracking; resource and time management
Templates
Cons
Not the best for complex projects
Requires stable internet connection
Some complaints about customer support
Why we chose this tool
If you or your team prefer using Gantt charts during project management, GanttPRO is an excellent tool to consider. You can create as many project plans as needed under different workspaces, allowing you to use this tool for personal and work-related task management. The drag-and-drop functionality makes everything more convenient as well!
Pros
Available on a few platforms, syncs across your devices
Free forever plan available
Great for Agile project management
Secure
Simple and intuitive UI with a sleek design
Fewer distractions and reduced feature bloat
Doesn't require onboarding
Plenty of integrations
Time tracking/reporting
Cons
Limited customization for project/task templates
Requires paid plan for most advanced features
Limited integrations on the free plan
Why we chose this tool
MeisterTask is worth considering If you're looking for a robust tool that offers security at the same time. This tool works well for project and task management and enables team collaboration. It's intuitive and user-friendly, so you won't have to go through an entire onboarding process just to start using it, either.
MeisterTask offers plenty of integrations, including some of the most popular productivity tools and other project management tools. This can make it easier to streamline your work processes overall. You can also try Meistertask's free forever plan, but for more features, you'll need to upgrade.
How We Chose The Best Tools for Software Project Management
As we put together our list of recommendations above, we considered several criteria to ensure that we included only the best options available. We conducted extensive research, polled professionals from various industries, checked reviews and customer feedback, and looked at the factors below.
Project management methodologies involved - Project management tools employ specific methodologies. We made sure to include tools using a variety of methodologies to ensure a wealth of choice.
Features

- We considered each tool's feature set to ensure it offered the necessary functions that enable teams to become more productive.

Integrations

- We chose PM tools that offered a wide range of integrations, enabling users to further customize and streamline their workflows.

Ease of use and availability

- We chose tools that offered intuitive user interfaces, great user experiences, and user-friendliness.

Price

- We included a range of options for a variety of budgets.
Conclusion
No matter the size of your team and the type of project you're working on, using project management tools can help improve workflows and output. Choosing the right type of tool for you and your team is vital for streamlining and optimizing day-to-day operations.
These project tracker tools may encourage communication and collaboration, boost productivity, and help ensure that teams meet deadlines for their deliverables. Teams can reap the benefits of project management tools, provided they find a tool, or tools, using project management methodologies that suit them best.
We hope that this list of recommendations helps you find a few tools to add to your tech stack. If you think we missed a project management software tool that should be on this list, let us know in the comments below!
Looking to streamline your team's operations in 2023? Check out:
Frequently Asked Questions
1. What Are Project Management Tools and Techniques?
The tools and techniques used in project management comprise software and strategies designed to help teams with managing daily operations and project productivity. These PM tools and strategies aid in streamlining team collaboration and any other processes undertaken to complete tasks and project deliverables.
2. What Are Five Project Management Techniques?
Over the years, project management has evolved so people have created even more methodologies and techniques, each with their own rulesets and processes. The most popular project management techniques you'll commonly hear about include Waterfall, Agile, Scrum, GTD or Get Things Done, and the Critical Path Method.
3. What Tools Are Used in Project Management?
No matter the project management methodology used, teams can use tools like charts, reports, diagrams, documents, and more to plan and execute successful projects. Examples of some popular tools include calendars and scheduling tools, Gantt charts, timelines, mind maps, network diagrams, and work breakdown structures.
4. What Is the Best Software for Project Management?
There are many fantastic software project management tools available today. Our list of recommendations above displays two dozen of the best available today. If you are unsure where to start, we recommend looking at Asana, Trello, ClickUp, Monday.com, and Wrike to start. If you are an individual or small team, consider Todoist.